Mission
The Mission of the Office of Family Programs is to develop and implement the Family Readiness and Assistance Programs for the families and service members of both the Army and Air National Guard of Louisiana.
The Office of Family Programs is a multi-faceted resource center, designed to respond and assist Army and Air National Guard family members in their day to day lives, including:
Unit to Family Liaising
Employment Networking
Benefit Resourcing
and much more!
To receive messages about SERVICES or EVENTS from the Louisiana National Guard Family Programs
Text 81010 with the message @langofp
---
 Child & Youth
The Child and Youth Program of the Louisiana National Guard is the voice of all military youth. The program is designed to offer advocacy and education for the children of military members.
In this current time of war, the program can be considered a safety net for our youth. It is a source of education about deployment and reunion, allowing our youth to better understand how to cope with these unique challenges. More importantly, the program is a system of support for youth in the time between deployment and reunions.
The Child and Youth Program is also the perfect chance to participate in leadership opportunities and form lasting connections at our annual events, which include:
Kids AT and Youth Leadership Summer Camps
Christmas Toy Drive
For more information, please contact the Lead CYP Coordinator:
To receive messages about SERVICES or EVENTS from the Child and Youth Program:
Text 81010 with the message @langcyp
---
Family Assistance Center
The FAC operates statewide to provide Guardsmen and their Families with the resources needed to overcome hurdles in everyday life, including:
Medical Benefits
Emergency Financial Assistance
VA Information
Community Capacity Building
For more information, please contact the FAC Coordinator:
---
Family Readiness Support Assistants
FRSA are a vital link between the Guard unit Commander, the families assigned to the unit, and the community resources available to the Soldiers and their families, whose services include:
Liaising Between Families and Unit Commanders
Volunteer Training
Volunteer-Unit Database Maintenance
For more information, please contact the Senior FRSA Trainer:
---
Family Assistant Specialist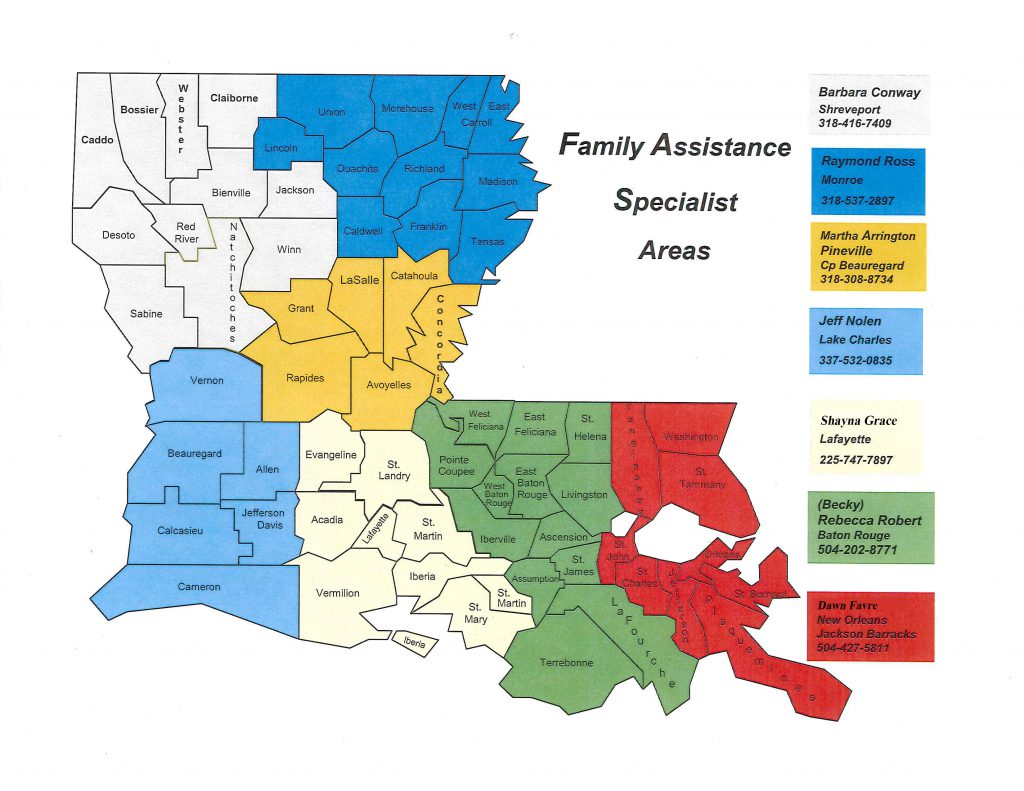 ---
 Helpful Links
Exceptional Family Member Program (EFMP)
Family Readiness Program (FRP)
Information and Referral Program (I and R)
Relocation Readiness Program (RRP)
Sexual Assualt Response Program (SARP)
Survivor Outreach Services (SOS)