La. Guard providing support for tornado response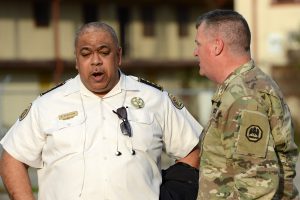 NEW ORLEANS – At the request of the Governor's Office of Homeland Security and Emergency Preparedness, the Louisiana National Guard has mobilized 150 personnel to assist local, parish and state emergency officials after severe thunderstorms spawned several tornados in southeast Louisiana, Feb. 7.
Governor John Bel Edwards, Maj. Gen. Glenn H. Curtis, the adjutant general of the Louisiana National Guard, Mayor Mitch Landrieu and other local officials were transported by two LANG UH-60 Blackhawks to survey the damage once the weather cleared.
Guardsmen will provide security personnel at 25 traffic control points in New Orleans East starting tonight and liaison officers have reported to the emergency operations center at city hall for Orleans parish. Aerial reconnaissance assets are available and commodities are being staged if needed.
Edwards has declared a state of emergency for Ascension, Livingston, Orleans, St. James, St. Tammany and Tangipahoa parishes.
"Our thoughts are with the citizens of southeast Louisiana as they once again experience the damaging effects of severe weather," said Curtis. "As always, the Louisiana National Guard stands ready when called upon to assist our local, parish and state officials in restoring our communities to normalcy as quickly as possible."