La. Guard 'stands down' for Florida response, remains ready
By Louisiana National Guard Public Affairs Office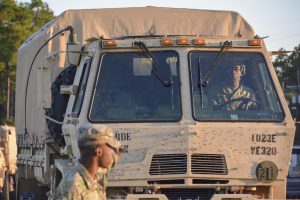 PINEVILLE, La. – The Louisiana National Guard will no longer deploy Soldiers to Florida to help in response and recovery efforts from Hurricane Irma after the request was cancelled by the Florida National Guard early this morning, Sept. 12.
Col. Cindy Haygood, commander of the 225th Engineer Brigade, said the initial request was for the LANG to send 400 Soldiers. However, this morning it was announced that Florida had enough Soldiers on ground to provide mobility.
The LANG's 922nd Engineer Company, 528th Engineer Battalion and the 1023rd Engineer Company was prepared to send more than 150 Soldiers to Lake City, Florida.
The 922nd was ordered to state active duty after a request for assistance from impacted states came under the emergency management assistance compact (EMAC) agreement.
Haygood explained that the ability to be ready to respond in a moment's notice is due to the year-long training that Soldier's go through in Louisiana.
When asked if there was any disappointment in not continuing the mission, Haygood said, "Anytime we can muster our Troops and get together to deploy quickly … this is just another great training exercise for us."
More than 65 vehicles and equipment were to convoy from Camp Villere in Slidell to provide engineer work teams to help with debris removal and provide mobility to first responders.
The 922nd has units in Gonzales, Plaquemine and Baton Rouge. The 205th Engineer Battalion headquartered in Bogalusa and the 1023rd Engineer Company headquartered in Bastrop are also sending Soldiers with the 922nd.