159th Fighter Wing conducts Change of Command for Maintenance Group
By Staff Sergeant Cindy Au, 159th Fighter Wing Public Affairs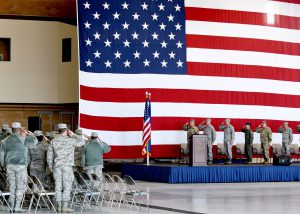 BELLE CHASSE, La. – Lt. Col. Brian J. Marbach assumed command of the 159th Maintenance Group from Col. Matthew G. Rippen in a formal ceremony held at Naval Air Station Joint Reserve Base New Orleans, Feb. 9.
Marbach served as the B-Flight Chief of Standardization and Evaluation of the 122nd Fighter Squadron from 2011 to 2015. From 2015 to 2017, he was the commander of the 159th Operations Support Flight. Marbach has been deployed in support of the Icelandic Air Defense mission and Operation Noble Eagle while he did his first operational tour at Mountain Home Air Force Base in 2002. In 2009, Marbach was deployed as the director of operations of the 807th Expeditionary Air Support Operation Squadron in support of Operation Enduring Freedom.
Marbach served in various leadership roles and completed many extensive training programs and brings a wealth of knowledge to his new positon as the incoming commander of the 159 MXG. From the U.S. Air Force Academy to the Eisenhower School for National Security, Marbach has gained the skills necessary to be an incredible and successful leader.
"We have the best maintenance record in the [Combat Air Force].  Every day I see the culture of excellence Col. Rippen mentioned," said Marbach. "It shows the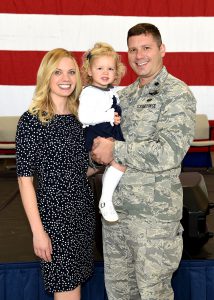 leadership at the top, the middle and the bottom, the training you give to your subordinates and how you run the organization. From the outside looking in, it looks outstanding."
Maj. Gen. Glenn H. Curtis, adjutant general of the Louisiana National Guard, is confident in Marbach's abilities in his new role to lead and command the 159 MXG.
"[Lt. Col Marbach] is taking command of the best Airmen in our Air Force – really the best maintenance people within our Air Force," said Curtis. "I know he will do great things as their commander and support them to the ends of the world."
Rippen, outgoing commander of the 159 MXG, credits the hardworking Airmen of the group to helping build a "culture of excellence."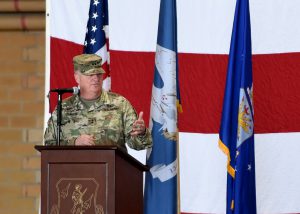 "Statistically, we are the number one maintenance group in the Air National Guard," said Rippen. "Once in a while, every two or three months, we are number one in the entire Air Force.  This is a testament to how well everyone does their job."
Rippen will continue his career as the wing commander of the 159th Fighter Wing.