Senior Enlisted Advisor – Army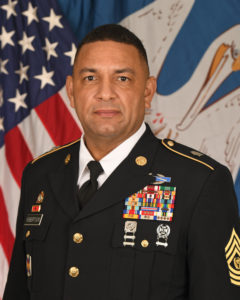 Command Sergeant Major
Sud A. Robertson
Command Sergeant Major Robertson enlisted into the Louisiana Army National Guard in October 1986 and attended Advanced Individual Training as a 71L (Administrative Specialist) at Fort Jackson, South Carolina. Throughout his career he has served in positions of leadership to include Platoon Sergeant, First Sergeant, Battalion Command Sergeant Major (CSM) and DRU CSM. CSM Robertson was promoted to Command Sergeant Major on April 25, 2006 serving as the Battalion CSM for the 256th Brigade Special Troops Battalion. Successive CSM assignments included Headquarters 2-156th Infantry Battalion, Headquarters 527th Engineer Battalion, 61st Troop Command,139th Regional Support Group and Joint Task Force – Louisiana. He has worked at FMS #10 for 27 years and served as the Shop Supervisor for 14 years. He was appointed to his current positon as the Louisiana Army National Guard CSM on 1 November 2020.
CSM Robertson is a veteran of Desert Storm/Desert Shield, Operation Iraqi Freedom, Operation New Dawn, and Operation Inherent Resolve.
CSM Robertson is a graduate of New Iberia Senior High School. His military education includes the Primary Leadership Development Course, the Basic Noncommissioned Officer's Course, the Advanced Noncommissioned Officer's Course, and he is a graduate of Class 32 of the U.S. Army Sergeants Major Academy (2008).
CSM Roberston's awards and decorations include the Bronze Star Medal with 2 Oak Leaf Clusters, Meritorious Service Medal with 4 Oak Leaf Clusters, Army Commendation Medal, Army Achievement Medal with 3 Oak Leak Clusters, Army Good Conduct Medal, Army Reserve Compents Achievement Ribbon with 7 Oak Leaf Clusters, National Defense Service Medal, Humanitarian Service Medal, North Atlantic Treaty Organization Medal, Meritorious Unit Commendation, Noncommissioned Professional Development Ribbion with Numeral 5, Overseas Ribbon with Numeral 3, Army Reserve Componets Overseas Training Ribbon, Combat Infantry Badge, Driver and Mechanic Badge, Armed Forces Reserve Medal with Silver Hourglass and "M" Device, Global War on Terrorism Service Medal, Afghanistan Campaign Medal, Iraqi Campaign Medal with 1 Bronze Service Star, Louisiana Rentention Ribbon, Louisiana War Cross with 4 Fleur-de-lis, Louisiana Commendation Medal, Louisiana Cold War Victory Ribbon, Louisiana Emergency Service Medal with 4 Fleur-de-lis, Louisiana General Excellence Ribbon with 6 Fleur-de-lis, and the Louisiana Longevity Ribbon with 5 Fleur-de-lis. CSM Robertson is also the recipient of the 2003 1SG Jerry Galloway First Sergeant of the Year Award and the 2016 Louisiana Army National Guard CSM of the Year Award.
Command Sergeant Major Robertson resides in New Iberia, Louisiana with his wife, the former Marie DeRouen, and is father to two children: Jabian and Kurstin.