Our Mission:
Motivate Service Members and Dependents to maintain physical, emotional, spiritual and psychological wellness through the enhancement of life skills

Work to reduce the stigma associated with seeking help during a time of hardship or suicidal crisis

Promote suicide awareness, crisis intervention training and resilience skills training
The Resilience, Risk Reduction & Suicide Prevention Program strives to increase the resilience of our force and decrease the rate of suicide within the Louisiana National Guard by working with internal programs and community resources.
Through Resilience and Suicide Prevention training, Service Members and family members can learn how to identify someone at risk of suicide and the actions needed to assist them. Being knowledgeable of your own level of resilience combined with the knowledge of at risk identifiers can allow for the prevention of suicidal behavior.
What do we know about suicide and the positive effects of resilience and suicide awareness training?
The Louisiana National Guard has experienced a number of Service Members lost to suicide. When a suicide occurs it does not affect just one person. Family Members, friends and co-workers are all touched and endure the long term effects.
There are many factors that contribute to suicide and are often deep rooted and very complex. Educating yourself on the signs of crisis and remaining resilient is a good start for combating suicide.
One of the greatest barriers to the prevention of suicide is the stigma that surrounds seeking help.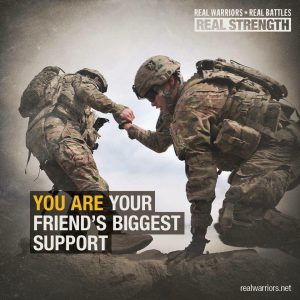 -Educate yourself and family members about the warning signs and resources. Suicide does not discriminate.
-Increase visibility and knowledge of resources
-Reinforce the battle buddy system
-Use what you learn in training and take action when worried about the possibility of suicide occurring.
The Resilience, Risk Reduction and Suicide Prevention Program includes multiple components and each are vital to improving the lives of our Service Members and their families.
MRT
Master Resilience Trainer
MRTs have the skills and techniques that build resilience by targeting one of more of the resilience
competencies (Self Awareness, Self-Regulation, Optimism, Mental Agility, Strength of Character and Connection) and in turn teach other Soldiers those same skills in order to adapt to or overcome challenges in everyday life.
MRT Requirement: E-6 to E-8, O-1 to O-3 or WO1 to CW4 and complete a 10-day ATRRS course coordinated through LANG R3SP
RTA
Resilience Trainer Assistance
RTAs assist MRTs with assessing and conducting training at unit level. Together they make a Resilience Team. RTAs are not authorized to teach resilience skills independently and should only assist the MRT.
RTA Requirement: E-5 or above and attend a 25 hour block of MRT core competencies led by an MRT taught over no more than 3 consecutive days
Suicide Prevention
Suicide Awareness Training
ACE (ASK, CARE, ESCORT ANNUAL TRAINING)
Suicide Awareness training is an annual requirement for all Service Members. This training can also be offered to LANG dependents and DoD Civillians. Training can be instructed by anyone the command sees fit or coordinated through the LANG R3SP. Course Information and powerpoint can be located below under Training Material or requested through R3SP.
ACE-SI (ASK, CARE, ESCORT- Suicide Intervention)
ACE-SI is a 4 hour, one time, mandatory training for E-5's and above. It fulfills the requirement of Suicide Awareness training for the training year. ACE-SI must be conducted by a certified instructor and can be coordinated through R3SP.
Intervention Training
ASIST (APPLIED SUICIDE INTERVENTION SKILLS TRAINING)
After completion of the training, ASIST trained personnel are able to provide suicide first aid interventions. They are able to identify people who have thoughts of suicide, seek an understanding of the reasons for those thoughts, and help find their reason for living, review risk and develop a safety plan.
ASIST Requirements: There is no rank requirement for this training. First line leaders, medics, chaplains, medical personnel are recommended to be a priority. ASIST Gatekeepers must attend a two day workshop conducted by LANG R3SP. Training are offered throughout the year in Minden, Pineville and Jackson Barracks. Units may also request a unit specific training by contacting R3SP.
Suicide Prevention Program Manager is a contractor employed by Dynamic Systems Technology Inc.