The Adjutant General of Louisiana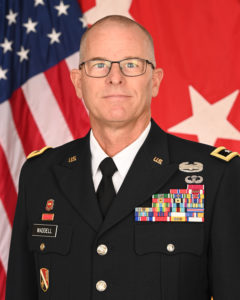 Major General D. Keith Waddell
Major General Keith Waddell is the 50th Adjutant General of the Louisiana National Guard. He is responsible for the deployment and coordination of programs, policies and plans affecting the more than 11,500 members of the Louisiana Army and Air National Guard.
MG Waddell graduated from Louisiana State University in 1990 and received a Bachelor of Science in Physical Education and minor in General Science. He received his commission from Louisiana State University in 1990 as a distinguished military graduate. MG Waddell has a Master's Degree in Strategic Studies from the United States Army War College and a Master's of Science in Homeland Security from Northwestern State University.
MG Waddell served on active duty at Ft Polk, Louisiana for four years with previous assignments as Platoon Leader, 7th Engineer Battalion; Platoon Leader and Executive Officer, 814th Engineer Company; Assistant S-3 Provisional Battalion, and S-2, 46th Engineer Battalion. MG Waddell's previous assignments in the Louisiana National Guard include: Liaison Officer, 225th Engineer Group; Company Commander, HHC 225th Engineer Group; Company Commander, Bravo Company 1088th Engineer Battalion; S-1, 225th Engineer Group; S-3, 528th Engineer Battalion; Battalion Commander, 769th Engineer Battalion; Deputy Commander, 139th Regional Support Group; Group Commander, 139th Regional Support Group; Brigade Commander, 256th Infantry Brigade Combat Team; Joint Director of Military Support for Louisiana; and Assistant Adjutant General – Louisiana.
MG Waddell mobilized and served as an Engineer Battalion Commander during Operation Iraqi Freedom in Multinational Division-Baghdad. While deployed, the unit conducted construction operations in support of the 1st Cavalry Division and the 4th Infantry Division. This included construction of combat out-posts, joint security stations, rapid road repair, general engineering, and battalion support operations. The unit was awarded the Meritorious Unit Citation for its service in Iraq.
MG Waddell is a graduate of the Engineer Officer Basic and Advanced Courses, Combined Arms and Services Staff School, Engineer Pre-Command Course, Intermediate Level Education Course, Support Operations Course, Joint Task Force Commander's Orientation Course, Dual Status Commander's Course, the U.S. Army War College, J3/JDOMS Operations Course, CJCS Level IV Antiterrorism Executive Seminar, Leadership in Homeland Security at the Harvard-Kennedy School of Government, the National Strategic Management Course at the Maxwell School of Citizenship and Public Affairs at Syracuse University, the Executive Leaders Program at the Naval Postgraduate School in Monterey, California, Airborne, and the Northern Warfare Orientation Course. His awards, decorations, and honors include the Legion of Merit, Bronze Star, Meritorious Service Medal (w/3 OLC), Army Commendation Medal (w/ 6 OLC), Army Achievement Medal (w/ 2 OLC), Louisiana Legion of Merit, Louisiana War Cross, Combat Action Badge, Parachutist Badge, and numerous other federal and state awards. He is a recipient of the General Douglas MacArthur Leadership Award, the Louisiana National Guard Outstanding Company Commander of the Year, the Brigadier General Edmund J. Giering Outstanding Company Commander in the Engineer Regiment, the Bronze de Fleury Medal, and Order of St. Maurice (Legionnaire).
MG Waddell is a certified teacher and administrator in Louisiana. Other notable achievements include being named Louisiana High School Coach of the Year in Baseball and Basketball. He was also named District Coach of the Year multiple times in a variety of sports throughout his 18-year coaching career.
MG Waddell resides in Lake Charles, Louisiana and is married to the former Lisa Doga. He is the father of three children: Kimber, Michael (Lindsey), and Kenny (Jada) and has three grandchildren: Braden, Karsyn, and Logan.
(Updated August 28, 2023)