159th Fighter Wing holds change of command ceremony
By Capt. Peter Drasutis, Louisiana National Guard Public Affairs Office
NEW ORLEANS – Col. Jonathan D. Mumme relinquished command of the 159th Fighter Wing (159 FW) to Col. David M. Anderson in an official ceremony held at Naval Air Station Joint Reserve Base New Orleans, June 30.
Anderson started his Air Force career in 2001 upon commissioning from the Texas A&M University Reserve Officers' Training Corps program and earning his pilot wings at Laughlin Air Force Base, Texas. From there, he served eleven years on active duty, flying the F-15C in multiple operational and training capacities. In 2013, Anderson transitioned to the Louisiana Air National Guard (LAANG) as the chief of scheduling and, later, a flight commander. Anderson has deployed in support of Operations Peaceful Summit and Enduring Freedom as well as two theater security package missions providing the United States European Command (EUCOM) and United States Pacific Command (PACOM) commanders with deterrent air superiority forces while maintaining regional stability.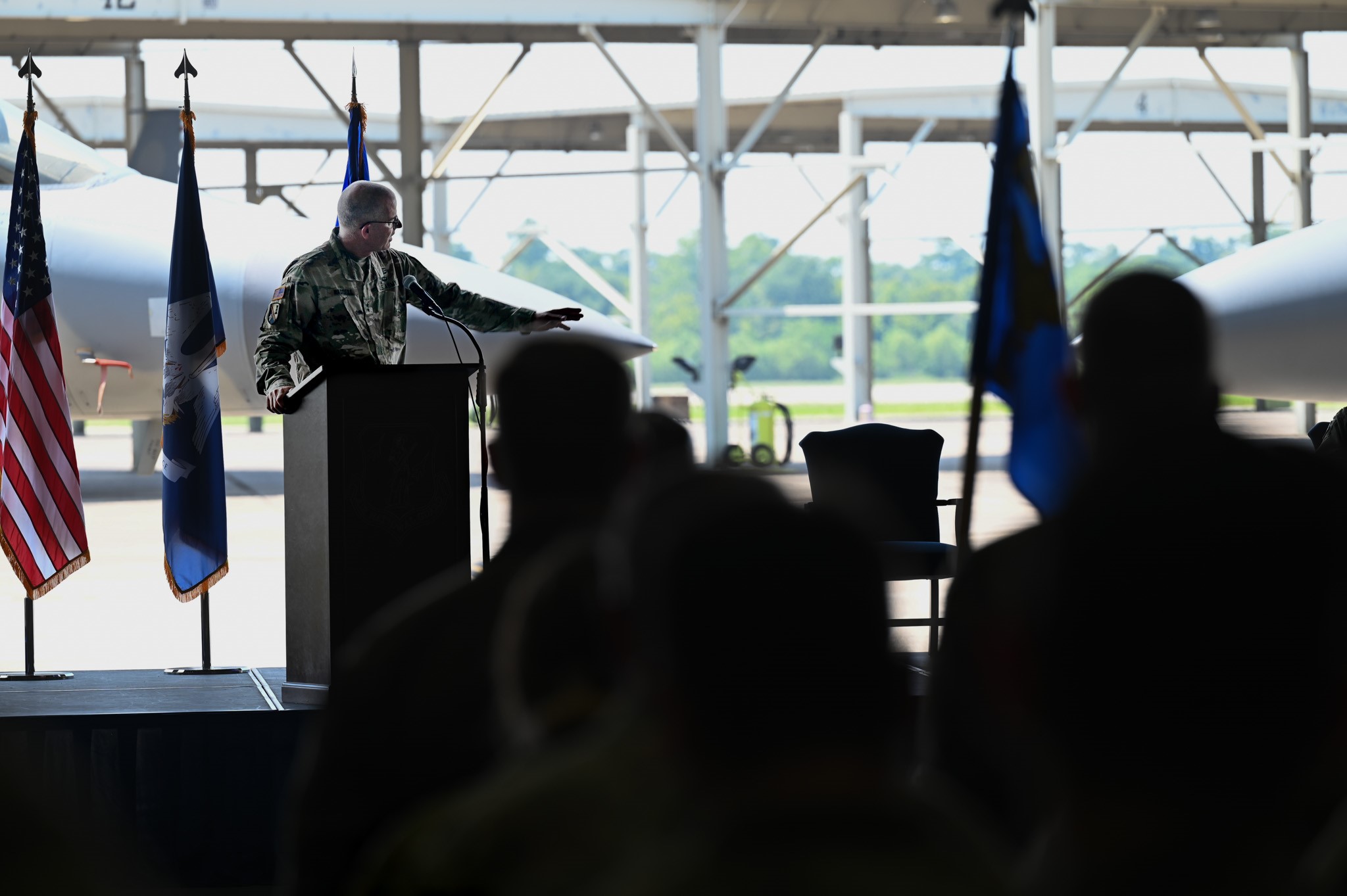 Maj. Gen. Keith Waddell, adjutant general of the Louisiana National Guard, acknowledged the achievements of the 159 FW under the outgoing commander, Col. Mumme.
"He understood what our priorities were as far as readiness," said Waddell of Mumme and the 159th's response during the COVID-19 pandemic and multiple all-hazards missions between the years of 2020-2023.
Waddell went on to recognize the recent achievements of, as well as provide specific guidance to the incoming commander, Col. Anderson.
"The two 'due outs' I have for him [Col. Anderson] is first, take care of our Airmen and second, bring this unit to the next level," expressed Waddell. "I have the ultimate confidence in you that you will get it done with the tremendous Airmen that we have here today and those that were unavailable to take part in the ceremony."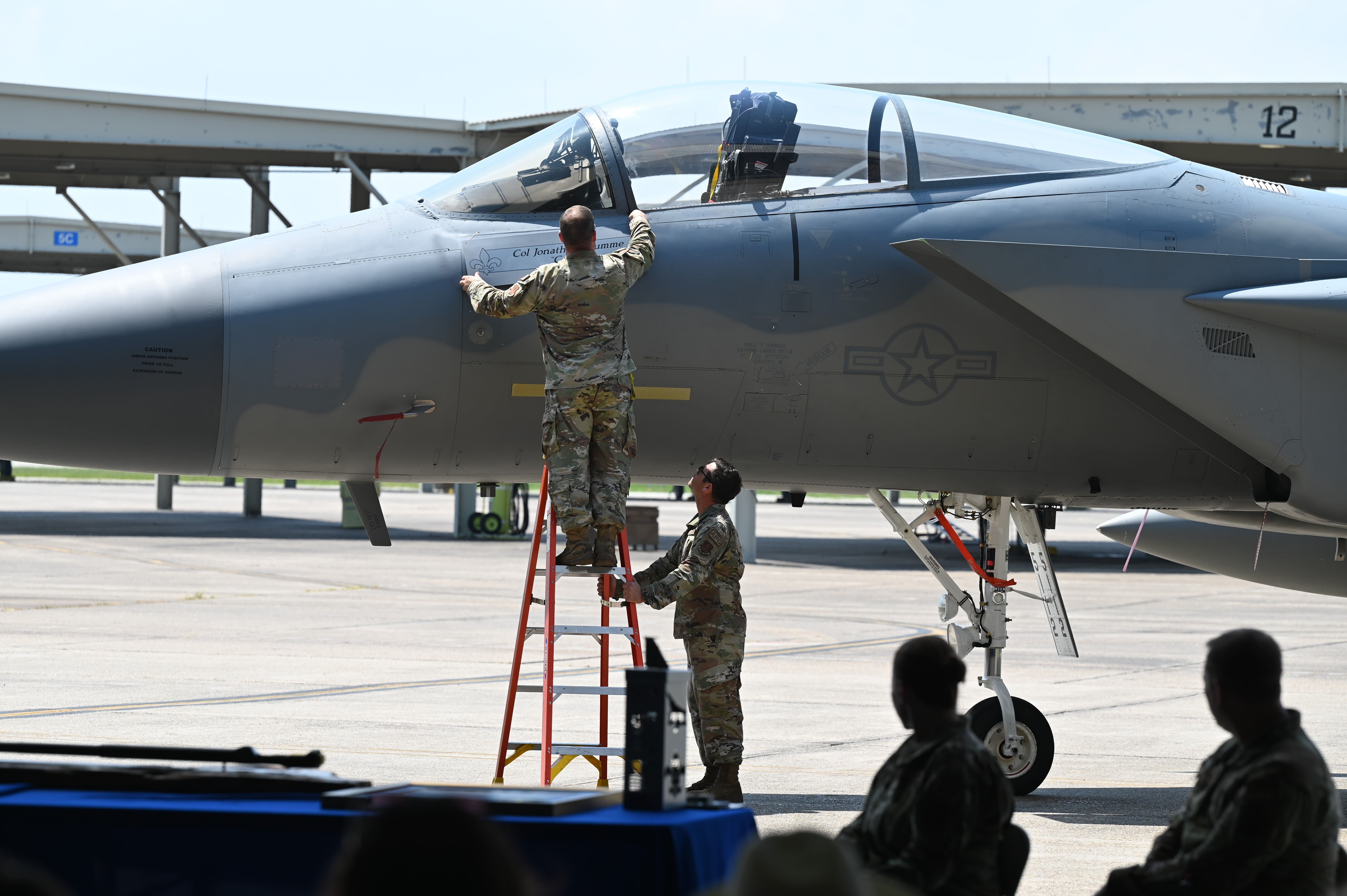 Anderson has served as the commander of multiple squadrons and groups within the wing during his time with the LAANG. He served as chief of scheduling, flightcommander and weapons officer for the 122nd Fighter Squadron. Prior to assuming his position of wing commander, Anderson held the positions of operations support flight commander and operations group commander within the 159 FW.
"I'm humbled to be a part of that endeavor to continue to make it a better organization," said Anderson regarding the legacy he inherits from the previous leaders of the 159 FW. "But we all know that's not going to be possible without all the Airmen of Louisiana, and that's really who put in all the effort to make this organization what it is, and the great people that are in it. Your dedication and sacrifice to provide ready forces for America is the true airpower of the Air Force, this fighter wing and what they deliver."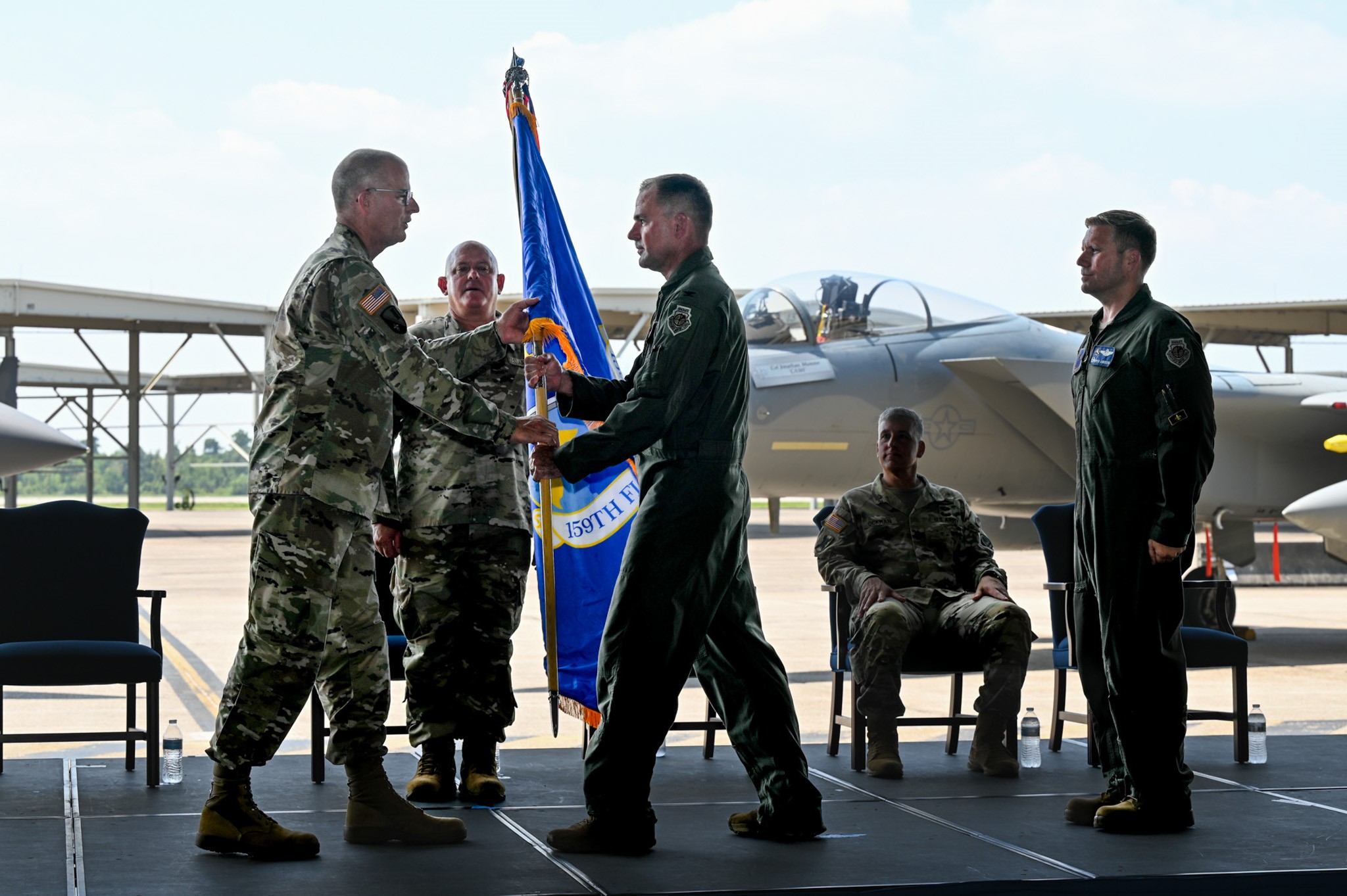 In his address to the 159th, Mumme recognized his mentor's guidance, thanked his family for their support and asserted his confidence in Anderson's ability to be a great wing commander for the unit.
"RIPPER (Col. Anderson), I've appreciated your friendship, attention to detail and tenacious problem solving throughout the years. I know the 159th is in great hands with you and you will, in fact, take them to the next level," said Mumme.
Mumme went on to thank the service men and women of the 159 FW.
"I stand here in absolute awe of you. Through an extremely turbulent time in our state and nation's history, you stepped up to every challenge, pulled together and made success happen," said Mumme. "You saved lives, you saved property, you fought, you sweat, you bled. It's hard to put in words what you all mean to me. Thank you for every minute."
Mumme had an accomplished career during his time as the wing commander from 2020 to 2023. He will continue his career by attending the Eisenhower School for National Security and Resource Strategy.