159th Fighter Wing hosts 'Bring a Friend to Drill' day
By Senior Airman Dane St. Pe, 159th Fighter Wing Public Affairs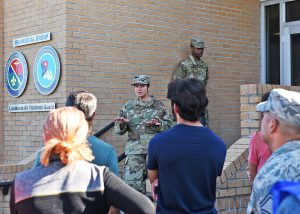 BELLE CHASSE, La. – Airmen from the 159th Fighter Wing, Louisiana Air National Guard invited guests from the local community to a recruiting event called 'Bring a Friend to Drill' at Naval Air Station Joint Reserve Base New Orleans located in Belle Chasse, Aug. 4.
The event was designed to introduce guests to what the Louisiana Air National Guard has to offer prospective new recruits.
"There are 10,000 Soldiers in the Louisiana Army National Guard," said Brig. Gen. Pete Schneider, assistant adjutant general – air for the LAANG. "There's 1,500 of us in the Louisiana Air National Guard.  There may not be a lot of us, but we are really good at what we do.  As the new generation of Airmen are coming in, there are some challenges in this organization that we need your help with."
The friends invited to attend the event could include a high school or college classmate, a sports teammate, neighbor or relative. The Wing gave guests a short formal presentation followed by a guided tour around the base and opportunities to talk with various Airmen about their careers and duties.
"This is a time for us to showcase what we do here in the Louisiana Air National Guard with your friends and family," said Senior Master Sgt. Iris Honrado, superintendent of recruiting and retention for the 159th.
Guests participating in event learned first-hand about the various shops and sections that contribute to the overall success of the 159th Fighter Wing's mission and the numerous career opportunities available for Airmen.
"It was pretty cool," said Chris Soileau, friend of Senior Airman Hunter Bonin, an Egress Shop journeyman for the 159th Maintenance Squadron. "I didn't realize there are so many different careers intertwined and everyone has a very specific job they're responsible for."
Another aspect of the event was to give the civilian guests information about the self-improvement programs and benefits Airmen have as a member of the 159 FW family.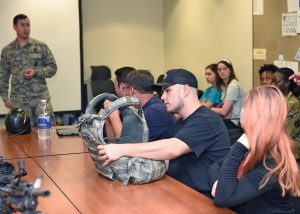 "We're more than just a fighter wing; The Louisiana Air National Guard offers many benefits, such as education and medical insurance," Honrado said. "We are able to offer a lot of career fields that are highly marketable in the civilian workplace."
The Louisiana Air National Guard was founded in Dec. 1940 and currently has over 1,500 members.  The 159 FW continues to provide worldwide deployable aircraft and combat resources operated, maintained and supported by professionals dedicated to supporting national policies and serving the citizens of Louisiana.
"If you want to be in this organization, you've got to be good," Schneider said. "We're going to push you, tempt you and test you.  On that note though, the other thing we're going to do, is take care of you."