Alexandria native earns rank of sergeant major in La. Guard
By Staff Sgt. Noshoba Davis, Louisiana National Guard Public Affairs Office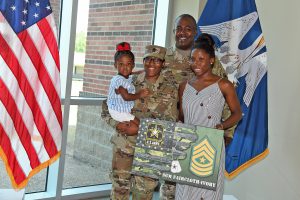 PINEVILLE, La. – Surrounded by fellow Soldiers, friends and family, the Louisiana National Guard promoted Demetria Faircloth-Ivory, an Alexandria native, to the rank of sergeant major at Camp Beauregard in Pineville, July 18.
"It is a little bit surreal to me. I am very blessed and honored to have made it this far in my career," said Faircloth-Ivory. "I definitely do not take anything for granted and I thank God daily for placing other great leaders within my path. Some of these leaders saw more than I saw in myself and because of their guidance and leadership, I progressed to the rank of sergeant major."
Faircloth-Ivory enlisted in the LANG at the age of 17 in 1997 as a personnel administration specialist. She is a graduate of Peabody Magnet High School in Alexandria. Faircloth-Ivory earned a Bachelor of Arts in Professional Communication from Duquesne University in Pittsburgh, Pennsylvania in 2014. In 2018, she earned a Master of Science in Human Resource Education from Louisiana State University.
Faircloth-Ivory has served in various roles during her time in the LANG, including: Personnel administrative specialist, legal noncommissioned officer, paralegal, senior personnel services sergeant, primary leadership development course small group leader, quality assurance sergeant/course developer and writer and assistant inspector general. She is currently the LANG's United States property and fiscal office senior enlisted advisor.
"I have always been motivated to put forth a tremendous amount of effort with anything that I was assigned to do. However, I would have to say that my two daughters are definitely one of my biggest motivations," said Faircloth-Ivory. "My biggest influence is actually located outside of the military. My grandmother and parents taught me so much about life and how to deal with certain situations. 'Drive on' is definitely an old military saying that they enforced the actions of in me as a kid."
Faircloth-Ivory deployed overseas in support of Operation Enduring Freedom in 2012.
Over the course of her career, Faircloth-Ivory has attended multiple military schools to include: Adjutant General School, Paralegal Specialist Course, Total Army Instructor Training Course, Small Group Instructor Course, Human Resource Basic Noncommissioned Officer Course, Pre-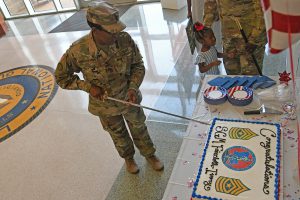 Warrant Officers Course, Master Resilience Training Course, Company Commander and First Sergeant Pre-Command Course and Inspector General School.
Faircloth-Ivory's awards and decorations include: Meritorious Service Medal, Army Commendation Medal with four oak leaf clusters, Army Achievement Medal with oak leaf cluster, Army Good Conduct Medal with three knots, Army Reserve Components Achievement Medal with oak leaf cluster, Military Outstanding Volunteer Service Medal, Louisiana Longevity Ribbon with three fleur-de-lis, Louisiana General Excellent Ribbon with four fleur-de-lis, Louisiana Emergency Service Medal with two fleur-de-lis, Driver Badge and Mechanic Badge.
Faircloth-Ivory and her husband, Sgt. Maj. Howard Ivory, reside in Pineville and have two children: Lauren and Jordyn.