Always on: La. Airman saves firefighters after grisly crash
Airman 1st Class Cindy Au, Louisiana National Guard Public Affairs Office
BELLE CHASSE, La. – Louisiana Air National Guardsman Staff Sgt. Santiago St. Clair of the 159th Security Forces Squadron from Naval Air Station Joint Reserve Base New Orleans in Belle Chasse, who is also a Louisiana State Trooper, was in the right place at the right time to help save fellow first responders in a grisly bus crash that caused two deaths and dozens of injuries on, Aug. 28.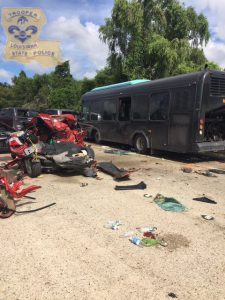 After south Louisiana received devastating flooding Aug. 13, a bus full of workers made its way from New Orleans to Baton Rouge with plans to help with flood relief efforts.
Outside of New Orleans in LaPlace, the bus driver lost control while driving down Interstate 10, and ran into a fire truck that had responded to a minor accident earlier that morning. The bus then hit the car in front of them, causing the car to slide into the backend of the trailer in front of it. The driver then swerved and hit the previously wrecked truck. The bus hit and knocked three firefighters from the St. John the Baptist Parish Fire Department, into the swampy waters off the Bonnet Carre Spillway.
As soon as the dispatch was heard through the radio, St. Clair and his team of state police reported on scene as quickly as they could.
St. Clair has been a state trooper for just one year with Troop B, Team D.
"One of the things I love about the state police and most, if not all, law enforcement [officers], is that if we hear something's wrong, especially if it's coming from another police officer or another service member, there's no question about it; we are getting out there," St. Clair said. "Thinking back at it, it was crazy. You always hear about those things happening, but it was a first time for me."
St. Clair and the other responding troopers lowered a ladder over the rail. St. Clair then carried the firefighters out of the water to safety, with the help of the other first responders.
"I want to make sure that it's understood that I didn't do this by myself. There's no way I would've lifted a 240 pound guy up that ladder by myself with a bulletproof vest and my full uniform on," St. Clair said.
"The St. John the Baptist Fire Department helped out [as well]. I've used the word 'we' a lot [telling the story] because it wasn't me, it was we. Even though they didn't get in that water, they came out to help. They were out there on their hands and knees in the hot sun and rain. They were out there getting the job done."
As a part of the 159th Security Forces Squadron and having deployed to Kazakhstan with the 376th Air Expeditionary Wing, St. Clair says military experience has helped him become a better state police officer. He has built great relationships that have helped him both inside and outside of the Guard.
"There are a few other state troopers that are Guardsmen," St. Clair said. "We have that relationship which is awesome. I know two other guys in the 159th who went to the state police academy in Baton Rouge the same time I did – Master Trooper Caesar Taylor, a master sergeant from the 159th Weapons Shop here, and Master Trooper Howard Amos, a retired master sergeant from the 159th Security Forces Squadron."
The military has also helped St. Clair learn how to deal with people going through troubling situations.
"The military helped mentally prepare me for all of the things I have to deal with," St. Clair said. "Being with the 159th Security Forces Squadron, I've seen people at their worst. We might see those things every day, but that incident might be rock bottom for them."