Arkansas Guardsmen sweep regional Best Warrior Competition
Louisiana National Guard Public Affairs Office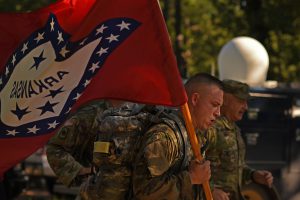 NEW ORLEANS – The Louisiana National Guard hosted the Region V Best Warrior Competition at Camp Beauregard in Pineville, May 22-25.
The non-commissioned officer and Soldier of the year winners from Louisiana, Kansas, Arkansas, Nebraska, Texas, Oklahoma and Missouri state competitions competed for the chance to represent Region V in the national competition later this year.
Arkansas National Guardsmen Sgt. 1st Class John Wayne Bradshaw, of Hot Springs, Arkansas, and Spc. Wacey Connor, of Fayetteville, Arkansas, each beat out six other Soldiers for the title of Region V best warrior.
"You willingly chose to submit yourselves to long, hard days and some pretty grueling events all in the name of Soldiering and esprit de corps," said Brig. Gen. Joanne Sheridan, assistant adjutant general of the LANG, to the 14 competitors during the award ceremony after the competition. "To take on those hard challenges takes courage, dedication and motivation that is unique to the cream of the crop and the best of the best."
During the competition, Guardsmen completed tasks that were designed to push their minds and bodies to the limit. These included: facing a board of sergeants major, where knowledge of U.S. and Army history was tested; an obstacle course; the Army Physical Fitness test with a five-mile run; night-to-day land navigation through the dense pine woods of north Louisiana; knowledge of and proficiency with different weapons systems used by the Army; and a 12-mile ruck march.
"I'm very grateful to be given the opportunity to go represent my state at nationals," said Connor. He said that he planned to start training the week after the regional competition for the next level. "I'll be doing a whole lot of rucking, a whole lot of lifting weights and studying eight hours a day."
"I'm very proud that I was given the opportunity to represent Arkansas, my family and the good Lord here," said Bradshaw. "I'm honored to have the opportunity and I'm very blessed to have the right end of the stick at the end of the day." He echoed Connor's plans of starting to train for the national competition as soon as he got home from Louisiana.
Sgt. Andy Gonzalez, of the LANG's 62nd Civil Support Team, headquartered in Carville, Louisiana, was the runner-up in the NCO category. Nebraska Army National Guard Spc. Hunter Smith was the runner up among the junior enlisted.
During the ceremony where the winners were revealed, it was announced that the deciding factor that pushed Bradshaw over Gonzalez as the best NCO in Region V came down to a single bullet during one of the many shooting exercises the Guardsmen competed in.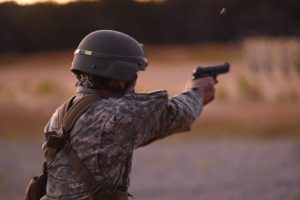 "Our [Region V's] mission now is to win nationals," said Command Sgt. Maj. Steven Veazey, senior enlisted leader of the Arkansas National Guard and chairperson of the Region V Command Sgt. Maj. Advisory Counsel. "Be ready NGB [National Guard Bureau], Region V is coming."