La. Airman steps in to aid animals in Baton Rouge area
By Sgt. Noshoba Davis, LANG Public Affairs
PINEVILLE, La. – Almost 11 years after Hurricane Katrina devastated New Orleans, southern Louisiana was again hit with historic flooding, Aug. 12-15. The flooding caused 13 deaths and damaged more than 60,000 homes.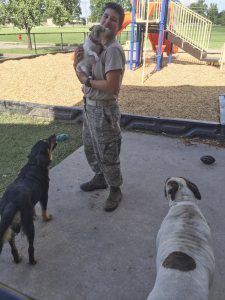 La. Air National Guard's Airman 1st Class Rachel Randazzo, of New Orleans, was 17 when she lost everything due to Katrina, and seeing the devastation from the flooding brought back those memories.
"I know how they feel I remember going through Katrina, and being in their shoes. I saw an opportunity to help where I could," said Randazzo. "It was my way of helping out and taking this terrible situation and making it better for them."
Randazzo is a jet engine mechanic with the 159th Maintenance Group. She works full time as a jet engine mechanic with Kay & Associates and has worked part time at MedVet, an emergency animal hospital in the New Orleans area since receiving her associate's degree in veterinarian technician from Delgado Community College. She is currently working towards her bachelor's degree in biology at the University of New Orleans.
More than 3,800 Guardsmen were activated for search and rescue missions and shelter security in response to the flooding in southern Louisiana. Randazzo's unit was assigned to the North Park Recreation Center in Denham Springs to provide shelter security. Within the first couple of days the shelter had 500-600 people and at least 100 animals with their owners. The shelter wasn't equipped to house animals forcing the animals to remain outside.
"When she heard that she took it upon herself to find an area to keep the animals in. It was encouraging to see somebody step up and do something that wasn't really our job to do," said Tech Sgt. Daniel Jeandron, the noncommissioned officer in charge of the security team. "We lucked out with her being a vet tech. I told her not to worry about security that we could handle it her only job was the animals."
The only place to keep animals was in a small fenced in playground on the side of the building. Since the shelter wasn't equipped for animals, Randazzo had to use anything she could for water and food bowls. She made make shift leashes at the beginning to try to keep dogs from running off and separated if they didn't like other animals.
Randazzo described setting up the clinic as 10 times crazier than a busy shift at the emergency hospital where she works.
"People were everywhere and it was just me. I felt so helpless, but I did what I could as one person and with what I knew," she said. "I was just trying to keep owners happy and content, as well as keeping animals healthy."
Denham Springs Animal Hospital stepped up when they heard about what she was doing for the animals. The animal hospital provided a tent for shade and protection from the rain, as well as, medicine, food and helping find animals that had been separated from their owners.
Randazzo walked the dogs every morning, then fed the animals and gave vaccines or medicine as needed. Some people in the shelter couldn't be outside in the heat to play with their animals so she would take pictures and play with the animals every day for the owners.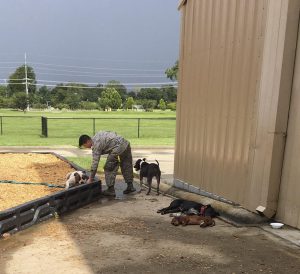 "I would take pictures of this one lady's dog, and go inside to show her," said Randazzo. "That made her day though and she kept telling me 'Thank you for taking care of my baby since I'm not able to stay outside.'"
Dr. Susan Yarnall, a veterinarian from Denham Springs Animal Hospital, was at the shelter helping with the animals when a gentleman approached Randazzo about helping find his dogs that he had been separated from. Randazzo gave Yarnall a description of the dogs to see if she could help locate them.
"It just so happened that Dr. Susan had received a picture earlier that day of a dog matching the description of one of his dogs," said Randazzo.
Randazzo showed the gentleman the picture and it turned out to be his dog.
"When I showed him the picture he broke down crying. He said, 'I can lose my house and everything else, as long as I don't lose my dogs,'" said Randazzo.
She worked with the animal hospital to find a way to get the dogs to the shelter, and reunited the dogs with their owner.
"She stepped up and showed everyone that we have people that can do things the military isn't known for. It showed that Guardsmen can do anything, and that we make our job personal because these people are our neighbors, our friends and even if they are a stranger we look at them as Louisianians. We take care of them and each other," said Jeandron.