La. Guard hosts inaugural Fearless 5K & Health Expo
By Sgt. Renee Seruntine, 241st Mobile Public Affairs Detachment
PINEVILLE, La. – The Louisiana National Guard hosted its first Fearless 5K & Health Expo at Fort Randolph and Buhlow State Historic Site in Pineville, on National Suicide Awareness Day, Sept 10. The community running event was created to increase suicide awareness and showcase veteran and community resources during Suicide Prevention Month.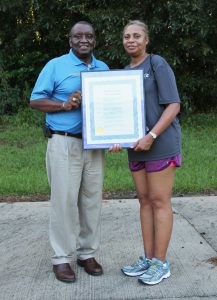 The LANG Resilience, Risk Reduction and Suicide Prevention Program (R3SP), a critical component of the Reintegration Office, organized the event. More than 30 vendors and exhibitors provided free food and beverages, activities for the kids, information and resources, while a DJ played motivational music. The 5K race was open to runners and walkers of all ages and skill levels.
Pineville Mayor Clarence Fields issued a proclamation saluting the LANG's efforts to focus on suicide prevention and encouraging citizens to honor who have been lost.
"This year, we wanted to put together an event that would spread awareness and prevention," said Col. Jona Hughes, director of the LANG Reintegration Office. "I ask that each of you, today and every day, be the one to make a difference. Reach out to your friend, co-worker, a family member and simply ask 'how are things going?' One conversation can save a life."
Approximately 400 Soldiers and civilians participated, with some running in remembrance of a lost loved one. An awards ceremony was held at the end of the event to show appreciation for all those who came out. Many awards were given in different categories according to gender and age.
"This past year our main goal was to join community forces to help spread awareness of suicide, reduce the stigma of asking for help and knowing the signs to look for to help someone in need," said Amber Sayer, Louisiana National Guard suicide prevention program manager. Each year, LANG units conduct suicide prevention and awareness training during their drill weekends in September.
1st Sgt. Henry DeJean, 1-169th Air Traffic Services Company in Hammond, was a guest speaker at the event and spoke about an experience he went through while deployed that almost led him to commit suicide. He shared openly about his experience to show that anyone can recover from the low points in life and move on to a productive life.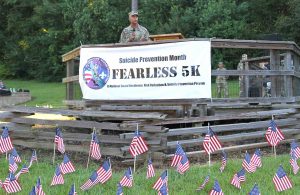 "If you can find one reason in your life, you can find a million reasons to continue your life," said DeJean. "Even if we lose one Soldier, it's one too many. Because that pain is transferred from whatever that Soldier has going on to the family who remains behind to share that memory and share that loss. So I would ask all of you today, while you're running, to carry that message of hope, carry that message that tomorrow can be a better day, because if you try you will be successful."
"It was a lot of fun, and it contributed to unit cohesion in support of this event," said Sgt. 1st Class Wesley Dodge, Air Space Information Systems platoon sergeant with 2-244th Airfield Operations Battalion. "It was definitely for a good cause. It made me feel great to be able to help raise awareness for veteran suicide and prevention."