La. Guard opens new readiness center
Spc. Garrett Dipuma, Louisiana National Guard
NEW ORLEANS – The Louisiana National Guard held an official ribbon cutting ceremony for a new readiness center in Franklinton, Sept. 23.
The new state-of-the art center was completed July 15. It covers more than 30,000 square feet and cost roughly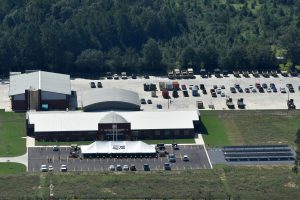 $13.5 million to build.
The readiness center will serve as headquarters for roughly 105 Soldiers of the LANG's 843rd Horizontal Engineer Company, 205th Engineer Battalion. It replaced the original center that was built in 1975, which sustained heavy damage from Hurricane Isaac in 2012.
"We know how important the National Guard is to this state and I think that they've proven that worth to each one of you time after time after time," said Ben Nevers, chief of staff for Governor John Bel Edwards.
The center features a five-lane Engagement Skills Trainer, which is like an indoor computerized shooting range, an assembly hall, heated and non-heated storage space, locker room space for up to 115 Soldiers and a backup generator capable of powering the whole facility during power outages.
The facility also has food service and physical fitness areas. The physical fitness area is equipped with state of the art cardiovascular machines and multiple free weight lifting stations.
In addition to the main facility, there is a maintenance building that covers a total of 11,088 square feet.
The readiness center will be used to support the federal and state missions of the 843rd, which is to command and provide support by conducting repairs, maintaining and constructing roads and airfields, setting culverts, hauling construction materials, conducting clearing and grubbing and providing other horizontal construction.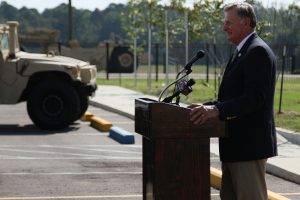 "The important thing about this facility is that it gives us a major footprint to watch from in case we get into an emergency," said Maj. Gen. Glenn H. Curtis, the adjutant general of the LANG, to the many state and local officials present at the ceremony. "This unit has been here since 1938, and I think by constructing a new facility like this shows our commitment and your commitment that we will be here for at least another hundred years, or that would be my hope as the current adjutant general."
The 843rd deployed to Afghanistan in support of Operation Enduring Freedom. Since returning, the company has supported many state and federal emergencies including hurricanes Gustav, Ike, Katrina, Rita and Isaac and the numerous floods in 2016.