La. Guard selects top recruiter and section chief of the year
By Spc. Megan V. Zander, Louisiana National Guard Recruiting and Retention Command
NEW ORLEANS – Louisiana National Guard recruiters Sgt. James Lancon of Sulphur, and Master Sgt. Richard McSpaddin of Madisonville, were respectively chosen as the top recruiter and section chief of the year during the annual Recruiting and Retention Command's selection board at Jackson Barracks in New Orleans, Oct. 4.
Recruiting and Retention Command held a formal dinner at the Napoleon House to announce the award winners.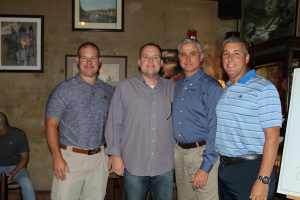 The Director's 54 and Section Chief of the Year is awarded to Soldiers who exemplify qualities including professional personal appearance, conduct, Army ethics, leadership, training pipeline success and overall board performance.
At the formal dinner, the awardees gave speeches to thank their families and fellow recruiters.
"This award goes to my team. Without them, this would mean nothing," said McSpaddin. "I also want to thank my family for their support."
"Sgt. Lancon lives the Army values, is a Soldier 24/7, strives to be an example to new Soldiers and always maintains a Soldier-first attitude," said Command Sgt. Maj. Paul J. Baum, senior enlisted advisor of Recruiting and Retention Command.
Lancon described what he attributes his success in accomplishing the top recruiter of the state.
"You are the only one that can control your effort, wake up before the competition, go to work every day, put in 100-percent effort and be proud of who you are and what you represent in the Louisiana National Guard," said Lancon. "I'd like to dedicate this award to my family. Having such a supportive family that understands why I put all the hours I put into this job means so much to me and helped tremendously in my success."
Lancon and McSpaddin will go on to represent the LANG at the Region V Strength Maintenance Advisory Council Conference in San Antonio, Texas, Nov. 5-8.
"As they head onto the next level, I have total faith in their abilities and proven performances. They are the best of the best, and I'm absolutely certain they can prevail against anyone in the nation," said Lt. Col. Kenneth T. Baillie, LANG Recruiting and Retention commander. "As a commander, I'm privileged and pleased to have a leader of Master Sgt. McSpaddin's caliber represent this organization at both the conference and national level."