La. Guard Soldiers, Airmen shoot for marksmanship honors
By Sgt. Noshoba Davis, LANG Public Affairs Specialist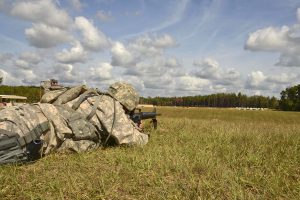 PINEVILLE, La. – The Louisiana National Guard's state marksmanship program had 74 Soldiers and Airmen from around the state compete in the annual Adjutant General's Marksmanship Match with hopes of making the Governor's Twenty, at Camp Beauregard in Pineville, Oct. 13-14.
1st Sgt. Tommy McGee of Columbia, and 1st Sgt. Johnathan Chapman, of Farmerville, modeled the competition after the national and international level matches they have competed in. These matches challenged the Soldiers and Airmen's rifle and pistol skills in areas such as precision shooting and reflexive fire.
"Our main mission is to teach the lowest ranking Soldier marksmanship skills and help them improve. Hopefully, by doing that, it will [help] retention throughout the state of Louisiana," said Chapman.
According to the event's organizers, the matches were designed to improve combat readiness and survivability by exposing shooters to stressful situations. Each team was made up of two veteran shooters and two new shooters to train new marksmen.
"The marksmanship unit for the state does an excellent job of trying to change the matches to mimic what's being done at the national level. The goal here being not only to improve the Adjutant General's Marksmanship Program, but also to try to select the best candidates to go and compete at the regional and national level," said Maj. William Saint, commander of the 62nd Weapons of Mass Destruction Civil Support Teams and a third year competitor at the TAG match.
Chapman and his team implemented mandatory briefings and a match bulletin this year to make sure shooters knew what to expect at the match the following day.
"I've worked with Chapman on SRT for years, and it's wonderful to see him take over for 1st Sgt. Tommy McGee. They're both phenomenal shooters," said Staff Sgt. Nicole Bourgeois with the 199th Regiment (Regional Training Institute). "It's just great seeing everybody together; you've got a really good mixture of seasoned shooters and new shooters, such as myself. It's great to watch it all come together, great firing time, great practice and great for comradery."
McGee became the state coordinator for the marksmanship program in 2000 and will retire with nearly 23 years of service in the LANG at the end of October. He handed the state marksmanship program over to Chapman and Staff Sgt. Michael Milstead, of Bastrop, La.
"It's a big honor to take over, and I'm just trying to fill in some big shoes that he left behind," said Chapman.
Chapman's future plans for the program including using the team as coaches during the best warrior competition to help improve marksmanship skills.
"I would like for us to be able to go around to different units and put on different clinics to help the units get ready to re-qualify," said Chapman.
In addition to the top twenty competitors being awarded a Governor's Twenty tab, the top 10 percent can earn points towards a distinguished badge in pistol or rifle. These shooters can then compete at the regional and national levels to earn points towards earning a gold distinguished badge, which is the highest military marksmanship designation.
During the awards ceremony, Chapman presented McGee with a new .45-caliber Springfield 1911 pistol as a thank you for everything he did for the program and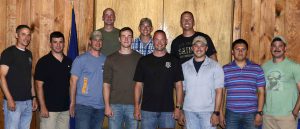 for the leadership he provided over the years to countless competitors.
"I hate that I'm retiring, but it's my time to go," said McGee. "I'm going to keep making brass even though I'm out of this uniform, and I'm going to keep pushing on."
Highest team honors went to B Company, 769th Brigade Engineer Battalion (Red Dawgs) consisting of Army 1st Lt. Dewayne Petroski of Lake Charles, 1st Lt. Russell Case of Baton Rouge, Sgt. 1st Class Michael Clark of Greenwell Springs and Sgt. 1st Class Corey Donaldson of Houma.
Petroski placed first in the Excellence In Competition for pistol. Army Sgt. Benjamin Cotten, with C Troop, 2nd Squadron, 108th Cavalry Regiment placed first in the special zero; Army Sgt. Jon-Michael Miller with C Troop, 2nd Squadron, 108th Cavalry Regiment placed first in the rifle run down; Army Sgt. 1st Class Michael Clark with D Company, 769th Brigade Engineer Battalion placed first in combat pistol and pistol aggregate; Army Sgt. Kalen Begnaud with 415th Military Intelligence Battalion placed first in individual rifle aggregate; and Staff Sgt. Clint White with 199th Regiment (Regional Training Institute) placed first in EIC Rifle.