La. Guard welcomes Alabama Regiment into the fold
By Spc. Garrett L. Dipuma, Louisiana National Guard Public Affairs Office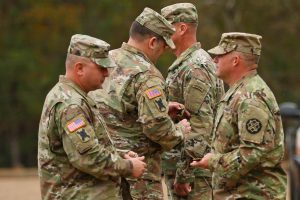 NEW ORLEANS – The Louisiana National Guard's 256th Infantry Brigade Combat Team, also known as the Tiger Brigade, welcomed the Alabama National Guard's 1st Battalion, 173rd Infantry Regiment into their ranks during an official patching ceremony in Enterprise, Alabama, Dec. 3.
According to the 256th's Commander Lt. Col. William Rachal, Army infantry brigades are being restructured so there are three maneuver battalions per brigade.
During the ceremony, Soldiers of the 173rd removed their old unit patches from their left sleeves and replaced them with the 256th's fleur de lis patch.
"It is good to be aligned with the 256th IBCT from Louisiana," said Lt. Col. John Hollar, commander of the 173rd. "We look forward to building the relationship and partnership that will improve the readiness of both the battalion and brigade."
Rachal and Command Sgt. Maj. Patrick Sandel, the senior enlisted advisor of the 256th, travelled from Louisiana to participate in the ceremony.
"It's a tremendous responsibility, one that I don't take lightly," Rachal said of having an additional battalion under his command. "I'm looking forward to the positive impact they're going to have on the 256th Brigade."
Sandel said that the joining of the units shows that the National Guard is all part of a single Army that is not confined by state lines.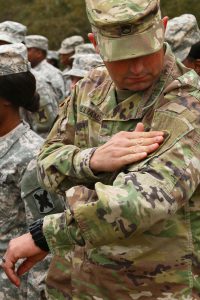 "To serve Alabama and the nation through the 256th IBCT in Louisiana will be a great partnership," said Hollar.
Hollar continued to say there are already several training events planned with the brigade for the next few years which includes a combat training center rotation at the Joint Readiness Training Center at Fort Polk, Louisiana.
The Tiger Brigade has deployed in 2004 and 2009 in support of Operation Iraqi Freedom and more recently has been activated to support rescue missions during the many floods that ravaged Louisiana during the past year.