La. National Guard commander retires after 33 years of service
By Spc. Garrett L. Dipuma, Louisiana National Guard Public Affairs Office
NEW ORLEANS – After nearly 33 years of faithful service to the U.S. military, Col. Brian P. Champagne, head of the Louisiana National Guard's information technology and a resident of Belle Chasse, retired during an official ceremony at Jackson Barracks, Nov. 5.
Champagne joined the Marine Corps in 1983 and served with 3rd Battalion, 23rd Marines before transferring to the LANG in 1987. In 1988, he was commissioned as a 2nd Lt. in 1st Battalion, 141st Field Artillery Regiment, also known as the Washington Artillery, after completing Officer Candidate School.
In 2006, Champagne assumed command of the Washington Artillery. In 2011, he took over his current position as head of information technology.
"In the book of life, Brian, it's time for your military chapter to now come to a close," sad Brig. Gen. Lee Hopkins, LANG director of joint staff, who presided over the ceremony. "But I'll tell you that chapter is an exceptional chapter. It's one of the best you can find across the entire National Guard … it's a chapter we should all read and try to emulate during our military service."
Champagne has deployed in support of Operations Desert Shield, Desert Storm and Iraqi Freedom. He was activated to serve as the executive Officer and later the task force commander of Task Force Orleans to support the Hurricane Katrina relief effort.
Champagne has been through several military schools, including U.S.M.C. Recruit Training, U.S.M.C. Basic Infantry Course, the La. Military Academy, Artillery Officer Basic Course, Air Assault School, Artillery Officer Advanced Course, the Nuclear, Biological and Chemical Self Defense Course, Combined Arms Staff Services School and Command and General Staff College.
His awards and decorations include the Bronze Star Medal with Oak Leaf Cluster, Meritorious Service Medal with two Oak Leaf Clusters, Army Commendation Medal with three Oak Leaf Clusters, Army Achievement Medal with three Oak Leaf Clusters, Army Reserve Components Achievement Medal, National Defense Service Medal with one Service Star, Army Reserve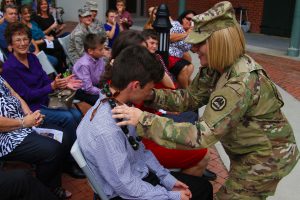 Components with Mobilization Device, Iraqi Campaign Medal, Global War on Terrorism Medal, Humanitarian Service Medal, US.M.C. Good Conduct Medal, Army Service Ribbon, German Armed Forces Proficiency Badge, Louisiana War Cross (3rd Award), La. Commendation Medal, La. Emergency Service Medal, La. General Excellence Medal (3rd Award), La. Longevity Medal (2nd Award), and the Louisiana National Guard Cold War Medal.
Champagne is a member of the National Guard Association of the U.S. and Louisiana, the Field Artillery Association and the Washington Artillery Veterans Association.
He has been married to his wife, Denise, of Nairn, La. For 22 years. They have three children together: Blake, 15; Kaleb, 12; and Zachary, 12.