La. National Guard engineer company receives unit award
By Sgt. Noshoba Davis, Louisiana National Guard Public Affairs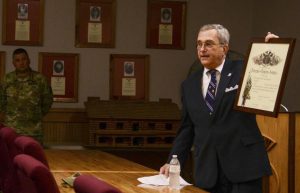 PINEVILLE, La. – Louisiana National Guard's Headquarters and Headquarters Company, 527th Engineer Battalion received the Order of Founders and Patriots of America Outstanding National Guard Unit Award during a ceremony at Camp Beauregard in Pineville, June 13.
Maj. Gen. Glenn H. Curtis, the adjutant general of the LANG, and Chester Mehurin, the Order of Founders and Patriots of America Awards Committee chairman, presented the award to Maj. Stewart Adams, commander of the 527th En. Bn.
"This award is a testament to all the hard work that the unit does, as well as, dedication of its Soldiers," said Adams.
A total of 24 battalions from the Louisiana Air and Army National Guard were nominated for the award. These battalions were nominated based off of strength, retention, military occupational specialty qualified, medical readiness and highest Army physical fitness test passing percentages for 2016. HHC, 527th had the best overall numbers in each category for 2016.
The Order, started in 1896, is generally recognized as the most prestigious of the genealogical and hereditary societies in the United States. The Order is composed of men descended from a founder of this country and a patriot ancestor who supported the American Revolution. The awards program was started by The Order to recognize outstanding Army and Air National Guard organizations or ROTC cadets in every state that has an OFPA society. The OFPA Outstanding National Guard Unit Award is given to a unit that has distinguished itself during the previous year by exceptionally meritorious service and exemplary performance of all missions assigned.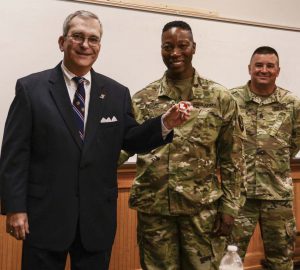 The 527th was mobilized in support of Operation Desert Shield/Desert Storm in 1990 and Operation Enduring Freedom in 2003. The 527th also responded to Hurricanes Katrina and Rita in 2005, Hurricanes Ike and Gustav in 2008, Operation Deepwater Horizon Oil Spill in 2010, Operation River Guardian in 2011, and three major floods in 2016. Soldiers of the battalion have participated in overseas training missions in the United Kingdom, Norway, Italy, the Bahamas, Jordan, Honduras, Belize and Haiti.