La. National Guard general retires after 35 years of military service
By Sgt. Garrett L. Dipuma, Louisiana National Guard Public Affairs Office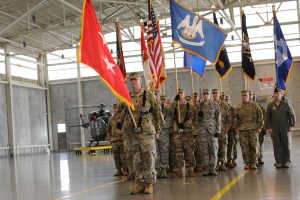 NEW ORLEANS – Maj. Gen. Barry Keeling retired from the Louisiana Army National Guard after 35 years of military service during an official ceremony at the Army Aviation Support Facility #1 in Hammond, Oct. 15.
Keeling, originally of Stillwater, Oklahoma, served as the assistant adjutant general since May 2016. During that time, he was the principal advisor to the adjutant general and was responsible for assisting in the deployment and coordination of programs, policies and plans for the LANG.
During the ceremony, Maj. Gen. Glenn H. Curtis, the adjutant general of the LANG, spoke highly of Keeling's abilities and accomplishments through the years.
"When I think about Barry Keeling, who is not only a great officer, but a personal friend of mine, I think about the Army values … and the two that stand out are loyalty and integrity," said Curtis. "The other thing I would tell you about Barry is that he has an impeccable, unbelievable work ethic. I tried the entire time that he was chief of staff to find his limits, and I never, ever found his limits."
Keeling holds a Bachelor of Science in Biology and Economics from Southeastern Oklahoma State University in Durant, Oklahoma and a master's degree in Strategic Studies from the United States Army War College.
Keeling attended Officer Candidate School at Quantico, Virginia and was commissioned as a second lieutenant in the U.S. Marines in 1982. He served with the Marines from 1982 to 1990 and was appointed in the LANG in September 1990.
"My 35-year career went by in a flash, and sometimes it's hard to know when to leave for those of us that wear the uniform," said Keeling. "We have to remember that it is not about us, it is about paying respect to our profession … I have had the opportunity to serve at ranks above my wildest dreams, and I have had leadership experiences that will stay with me the rest of my life."
Keeling, a pilot, is qualified on seven different aircrafts and has accumulated more than 6,000 accident free military flight hours. He previously served as the commander of the State Aviation Command and as the state Army aviation officer. After serving in aviation, he went on to serve as the director of plans, operations and training before being selected as the director of the joint staff.
Keeling has mobilized numerous times for stateside responses and deployed in support of Operations Desert Storm, Desert Shield, Enduring Freedom and Iraqi Freedom. During Hurricanes Katrina and Rita, Keeling was the commander of Task Force Eagle and Air Boss, which coordinated aviation rescue and relief efforts.
As the assistant adjutant general, Keeling played a vital role in the Deepwater Horizon Oil Spill and the numerous devastating floods in 2016.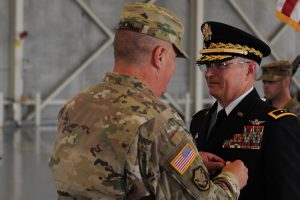 Some of Keeling's awards and decorations include the Bronze Star Medal, Meritorious Service Medal with four Oak Leaf Clusters, Army Commendation Medal, Navy Achievement Medal, Army Reserve Component Achievement Medal with one Silver Oak Leaf Cluster, National Defense
Service Medal with one Bronze Star, Southwest Asia Service Medal with one Bronze Star, Sea Service Deployment Ribbon with one Bronze Star, Kuwait Liberation Medal (Saudi Arabia and Kuwait), Louisiana Legion of Merit with one Bronze Fleur-de-Lis, Louisiana Recruiting Ribbon, Louisiana War Cross Medal with three Bronze Fleur-de-Lis, and Louisiana Cold War Victory Ribbon.
Keeling resides in Mandeville with his wife, Donna, and they have three children, Elysha, Jacob and Creighton. Since retiring, Keeling began working as undersecretary of the Louisiana Department of Transportation and Development.