La. National Guard honors a servant to state, country
By Sgt. Renee Seruntine, 241st Mobile Public Affairs Detachment
NEW ORLEANS – A long-serving Louisiana National Guard officer was honored for his distinguished service during a retirement ceremony witnessed by family, friends and fellow service members at Jackson Barracks in New Orleans, Aug. 6.
Col. Douglas Mouton enlisted in the LANG in 1983, at age 19, to attend college and study architecture. During his 32-year journey as a Guard member, Mouton rose from the rank of private to his present rank of colonel.
On the civilian side, Mouton graduated with a Bachelor of Architecture degree from the University of Louisiana – Lafayette in 1990, and eventually owned his own architectural practice. He also holds a Master's Degree in Strategic Studies from the United States Army War College.
Mouton, a graduate of Breaux Bridge High School in Breaux Bridge, Louisiana, gave up his practice to deploy with the 205th Engineer Battalion in 2003. As battalion commander, he directed the construction and maintenance of airfields and special operations bases in Afghanistan during the Operation Enduring Freedom.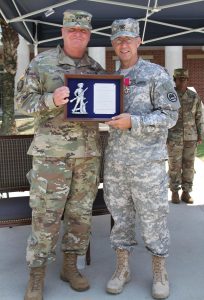 "Doug led the Engineer group as the commander of the 205th and took them to Afghanistan, and did unbelievable work," said Maj. Gen. Glenn H. Curtis, the adjutant general of the LANG. "Doug assumed the role as theater engineer of operations in Afghanistan. They were extended during the deployment from six months to nine months and they went through the ordeal of dealing with the Soldiers down range and with the effects on the families back home. We were at a pivotal point in the organization."
In the early days of Hurricane Katrina emergency operations in August and September of 2005, Mouton distinguished himself as a ground forces leader.
"During Hurricane Katrina, Doug was one of the leaders who helped us take care of the citizens and eventually get them out of downtown New Orleans to safety," said Curtis.
Mouton assumed command of the 225th Engineer Group in the aftermath of Hurricane Katrina. He also worked as the Construction Facilities Management Officer where he oversaw more than $700 million in military construction projects to restore the Guard's facilities damaged during the storm and flooding.
In 2009, Mouton assumed command of the 139th Regional Support Group, and in 2010 he became the Director of Strategic Planning, Joint Forces Headquarters.
"Everything I do is connected from this experience – my degree, leadership, Katrina, Afghanistan; it all makes us who we are. I am enjoying tremendous success only because of you, and what we have done together," said Mouton. "My next chapter, I will be behind the scenes cheering you guys on, and involved in whatever the general needs me to be involved in."
During his speech, Mouton pledged to give back to the LANG for contributing to his success in his civilian and military career by donating $50,000 to the Jackson Barracks Military Museum over the next four years. Mouton has served a board member of the Museum since 2012.
"We have a magnificent facility – the museum – which is the embodiment of the Louisiana story," said Mouton. "I am committed to helping tell the great Guard story of service and leadership alongside all of you. I am also honored to work for an organization, Microsoft, which has such a strong commitment to employee giving and has enabled me to make this contribution."
Through the Microsoft Employee Giving Program, employees donate their time, talent and money to help address the local and global causes they care about most. Mouton serves as the general manager of the Datacenter Execution Team for Microsoft's Cloud and Enterprise team in Seattle, Washington. He is responsible for Microsoft's Global Datacenter buildings infrastructure including all aspects of design, procurement and construction.
Like most of the surrounding area, the Jackson Barracks Military Museum was completely destroyed after Hurricane Katrina. In the years since, an enormous amount of work has been done to transform the museum into a modern-day, interactive and educational facility. Maj. Heather Englehart, director of the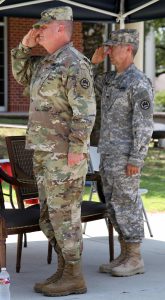 Louisiana National Guard Museums, said the rebirth of the museum is a multi-year endeavor, and having the generous support of Mouton and Microsoft will have a major impact on the museum's ability to tell the Guard story.
"Col. Mouton spoke metaphorically about how our various connected experiences and roles fulfilled by Louisiana National Guardsmen are like the interwoven
fibers of a beautiful tapestry, each strand vital in telling the story of our organization's history," said Englehart. "This very statement reflects the true essence of the museum's mission as our motto is 'Preserving the Past; Building for the Future'."
Mouton's service awards include the Legion of Merit with one Oak Leaf Cluster, Bronze Star Medal, Meritorious Service Medal with one Oak Leaf Cluster, Global War on Terrorism Expeditionary Medal, Global War on Terrorism Service Medal, Army Commendation Medal with one Oak Leaf Cluster, Army Achievement Medal with three Oak Leaf Clusters, National Defense Service Medal with one Silver Star, Army Reserve Component Achievement Medal with one Silver Oak Leaf Cluster, Louisiana Legion of Merit and the Louisiana Cross of Merit.