La. National Guard hosts military kids' camp in Bunkie
By Sgt. Noshoba Davis, Louisiana National Guard Public Affairs Office
PINEVILLE, La. – The Louisiana National Guard's Child and Youth Program hosted Kids' AT 2018 at the Cecil J. Picard Educational and Recreational Center in Bunkie, June 11-15.
Children and siblings of Louisiana Soldiers and Airmen spent five days attending the fun, military-style summer camp, loosely resembling the military's Annual Training (AT).
"I look forward to any opportunity that we have to be face-to-face with the children and youth of our service members," said Maj. Ebony Carter, state family programs director for the LANG.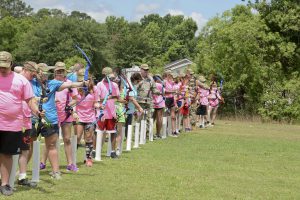 Maj. Gen. Glenn H. Curtis, adjutant general of the LANG, and his wife, Jill, first lady of the LANG, visited with the campers, June 13.
"General Curtis has made it a priority to say 'Protect What Matters'; for these service members it's their children and family, so any time we can have an opportunity to take care of them, and show their kids a good time and provide positive lessons to them it's a joy for us."
Curtis and his wife spent the morning participating in activities and taking pictures with the campers before sitting down with them for lunch.
Mrs. Jill then presented a camper from each platoon the First Lady's Treat Everyone As A Member (T.E.A.A.M.) Award. This award was given to campers who displayed positive leadership, acceptance, kindness and inclusion to all campers.
Kids' AT began in 1997 and is for children, grandchildren or family members of LANG Soldiers and Airmen. The annual training allows the youth to build relationships with other children who understand experiences that are unique to children of service members.
More than 120 youth from across the state reported to the recreation center on June 11 to begin their camp. The youth, ranging in ages 8-13, were divided into platoons and had a leader, just like a military unit would. The week was spent full of events that taught the youth about the military and what it's like to be a Louisiana National Guardsman.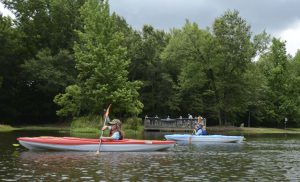 "What we do here, especially as platoon leaders, wouldn't be possible without our junior support staff," said Air National Guard Master Sgt. Chris Snow, a volunteer platoon leader during the camp. "They shuttle the kids from point A to point B, decide amongst themselves who's in charge of what children and keep the kids engaged."
Each platoon has youth counselors known as junior support staff, ranging in ages 14-18. These counselors are also children of Guard members. The week prior to each Kids' AT the JSSs attend the Youth Leadership Camp, where they learn teamwork, build confidence and leadership skills. At the conclusion of YLC, youth demonstrating positive leadership skills are asked to stay and participate in Kids' AT with platoons or as part of the logistics team.
"It's satisfying having these kids look up to me because I love kids," said Malik Broady, 17, a JSS with second platoon. "My favorite part is being around the kids and seeing their expressions when we do certain things. They are amazed by the smallest things."
Each day began with "Reveille", a prayer and the pledge before kids enjoyed events such as yoga and swimming. The kids also participated in activities such as: races, archery, skeet shooting, canoeing and fishing over the course of the week.
"It is awesome," said Julianna Saint, 8, a second-year camper with first platoon.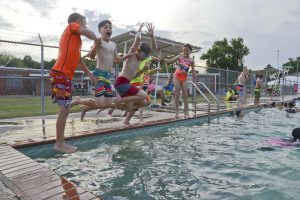 At the conclusion of camp, the campers gathered for a drill and ceremony competition between the platoons. Each platoon performed a series of facing movements, marching and cadences that they practiced throughout the week. The winner of the exhibition was the first platoon 'cookie monsters', which consisted of the youngest campers.
The camp concluded with Col. Jona Hughes, the commandant of the camp, announcing the campers and JSSs of the week from each platoon.
"If you haven't been to Kids' AT yet, you should come!" said Broady.
The LANG Child and Youth Program host several different events throughout the year, such as Camp Lagniappe and Project Connect. For more information on Kids AT, YLC or other events that the LANG CYP host contact Mikelle Ricou at mikelle.v.ricou.ctr@mail.mil or 225-761-6750.