La. National Guard's 165th CSSB welcomes new commander
By Staff Sgt. Scott Longstreet, HHD 139th Regional Support Group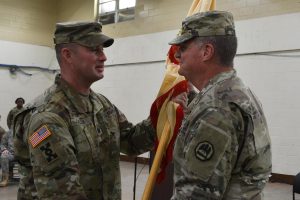 PINEVILLE, La. –The Louisiana National Guard's 165th Combat Support Sustainment Battalion welcomed Lt. Col. Jonathan D. Lloyd as their new commander during an official change of command ceremony at the 165th CSSB armory in Bossier City, Jan. 8.
Lloyd, from New Orleans, assumed command from Lt. Col. Geoffrey M. Allen, a Benton resident, who served as commander since November 2013.
"Our Soldiers are where [the] rubber meets the road," Allen said. "I want to personally thank each and every one of you Soldiers."
Allen received his commission from the Louisiana Officer Candidate School in 1996. Allen holds a Masters of Arts in Industrial Organizational Psychology from Louisiana Tech University and a bachelor's degree from Louisiana State University in Shreveport. He is a graduate of Intermediate Level Education, as well as the Transportation Officer Basic and Advanced courses.
Maj. Gen. Glenn H. Curtis, adjutant general of the LANG, signaled the transfer of leadership by receiving the organizational colors from Allen and presenting them to Lloyd.
Curtis thanked the Soldiers of the 165th for accepting the call to duty, praised both Allen and Lloyd for being great examples of what it means to be a leader and for having the courage to wear the uniform and serve their country.
"The Soldiers in the 165th are always ready and always prepared for any mission," he said. "This is a testament to the tremendous leadership within the organization."
As Lloyd took to the podium, he thanked Allen for his leadership and mentorship. He also thanked both Curtis and Col. Mark A. Howard, commander of the 139th Regional Support Group, for the opportunity to serve as the next battalion commander.
"It is a great honor and privilege to serve as the next commander," Lloyd said. "I am proud to build upon the success of Lt. Col. Allen. I am focused on taking the battalion to the next level and getting it prepared for mobilization and deployment."
Lloyd received his commission from the Louisiana Officer Candidate School in 1996 and holds a Bachelor of Liberal Arts from Northwestern State University, Natchitoches. He is a graduate of Armor Officer Basic Course, Maneuver Captains Career Course, Intermediate Level Education and Air Assault School. Lloyd serves as the deputy personnel and manpower officer for the LANG.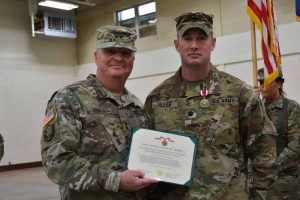 The 165th served during Hurricanes Katrina, Rita, Ike, Gustav and Isaac, as well as the Deepwater Horizon Oil Spill in 2010.  Most recently, the 165th was activated to assist with commodities distribution for the March and August flooding in 2016.
In 2008, Headquarters and Headquarters Company of the 165th was mobilized in support of Operation Iraqi Freedom.
Units of the 165th have provided support for overseas combat missions in Operation Desert Storm and Operations Enduring Freedom and Iraqi Freedom. Domestically, the 165th is vital to commodity distribution operations for disaster relief missions within the state.
The 165th CSSB will deploy in the fall of 2017 to provide combat sustainment support in Afghanistan.