La. National Guard's 'Steel Lightning' welcomes new leader
By Sgt. Noshoba Davis, 256th Infantry Brigade Combat Team Public Affairs Representative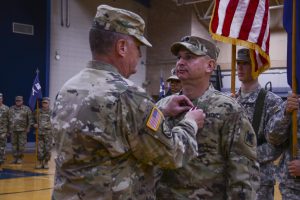 ERATH, La. –The Louisiana National Guard's 2nd Battalion, 156th Infantry Regiment, 256th Infantry Brigade Combat Team welcomed Lt. Col. Scott Desormeaux as their new commander during an official change of command ceremony at Erath High School in Erath, Nov. 6.
Desormeaux, a resident of Abbeville, assumed command from Lt. Col. William Haygood, a resident of Gonzales, who has served as the commander since March 2014, and is currently the strategic planner for the Louisiana Military Department.
"First, I would like to thank the Soldiers of 2nd Battalion. Anything that the battalion has achieved or will achieve is because of you. I'm amazed at both your talent and the hardships you endure," said Haygood.
Maj. Gen. Glenn Curtis, the adjutant general of the Louisiana National Guard, stood before the Troops and gave praise to both Desormeaux and Haygood for being great examples of what it means to be a leader and wished them well on their new endeavors.
"Bill, today you give up the best job in the Army, battalion commander, but you've done a great job. You should walk out of here proud of what you and second battalion have accomplished," said Curtis. "Scott, congratulations. You've earned the right and had all of the assignments, done all of the right things. You've got the opportunity to command a great infantry battalion, and I know you're honored and they should be honored to have you as their commander to lead them."
Desormeaux, received his commission from Army Reserve Officers' Training Corps at Northeast Louisiana in Monroe in 1994. He holds a Bachelor of Arts in Occupational Therapy from Northeast Louisiana in Monroe and a Master of Science in Emergency and Disaster management from the American Military University. He currently owns his occupational therapy business and is an occupational therapist.
"It is both humbling and an honor to have this opportunity Gen. Curtis, and I cannot thank you enough" said Desormeaux. "To the Soldiers I want to tell you what to expect from me is that in all of our interactions I will give loyalty, duty, selfless service, honor, integrity and personal courage. I want you to expect that from me in everything that we do and hold me accountable if I don't. I look forward to our success together."
The battalion has been in continuous service since 1861, and has served under two national flags in addition to the flag of Louisiana. The 2-156th has deployed in support of Operation Desert Shield/Storm in November 1990, Operation Iraqi Freedom III in 2004 and Operation Iraqi Freedom/Operation New Dawn in January 2011.