Louisiana Guard museum volunteers celebrate 26 years of making history
Former Guardsmen, others donate 2,000 hours to restoring history
By Sgt. Garrett L. Dipuma, Louisiana National Guard Public Affairs Office
NEW ORLEANS – The Louisiana National Guard recognized 17 members of the civilian all-volunteer 122nd Bomber Squadron Restoration Unit and seven additional volunteers during an official ceremony at the Ansel M. Stroud, Jr. Military History and Weapons Museum at Jackson Barracks in New Orleans, May 2.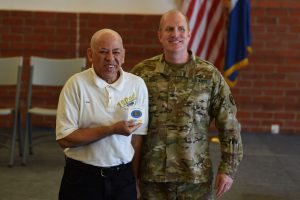 Col. Ed Bush, the LANG director of public affairs, and Maj. Heather Englehart, director of LANG museums, , presented awards to the volunteers who in the past year collectively worked 1,990 hours restoring historic military equipment in the museum.
"They've always been an instrumental group that's assisted with the museum," said Englehart. "I think of them as being part of the team … you get to know them very well."
Don Wolfe, a volunteer with the 122nd, and James Armour, a museum volunteer, received the Louisiana Distinguished Civilian Medal. All 24 honorees received certificates of appreciation for their time and dedication to the Jackson Barracks museum.
"It's nice to get the recognition, but we [other BSRU members] have so much fun doing it, it doesn't matter," said retired Col. Arthur Alberti, a former Louisiana Airman and New Orleans native. "I think we've done a really great job."
Alberti said that the group, which consists mostly of retirees, meets to work on restoration projects at the museum nearly every Wednesday.
The 122nd was organized in 1992 and was originally dedicated to restoring aircraft for static display. Since then, they have moved on to work on historic military vehicles, helicopters, anti-aircraft artillery and small arms. One of their crowning jewels is a fully functional 1919 Cadillac.
In March the museum opened their newest permanent exhibit, "Over There! Louisiana and the Great War" which commemorates the 100th anniversary of the U.S. entering WWI and showcases the LANG's contributions in the war.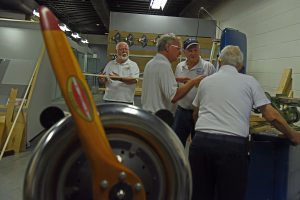 The museum has a permanent exhibit commemorating Hurricane Katrina and the Guard's response during the aftermath of the storm. There is also a temporary exhibit highlighting the contributions of women in the LANG which spans from the 1950's to present day.
For information on becoming a museum volunteer at Jackson Barracks in New Orleans, please call Bev Boyko, at 504-278-8024; at the Louisiana Maneuvers and Military Museum at Camp Beauregard in Pineville, please call Richard Moran at (318) 641-5733, or visit http://geauxguardmuseums.com.
Please visit http://geauxguard.com/ for the latest Louisiana National Guard releases, photos and videos. Like us on Facebook, follow us on Twitter, Flickr, and YouTube!