Louisiana National Guard aviation unit holds departure ceremony
By Staff Sgt. Noshoba Davis, Louisiana National Guard Public Affairs Office
PINEVILLE, La. – Soldiers from the Louisiana National Guard's 1st Assault Helicopter Battalion, 244th Aviation Regiment bid farewell to family and friends during a departure ceremony at the Army Aviation Support Facility #1 in Hammond, Louisiana, on Aug. 6.
More than 80 Soldiers from A, D and E Companies are scheduled to deploy in support of the Joint Emergency Evacuation Plan. Once at Fort Belvoir, Virginia, the 1-244th will prepare to provide airlift capabilities to official personnel in the Capital Region.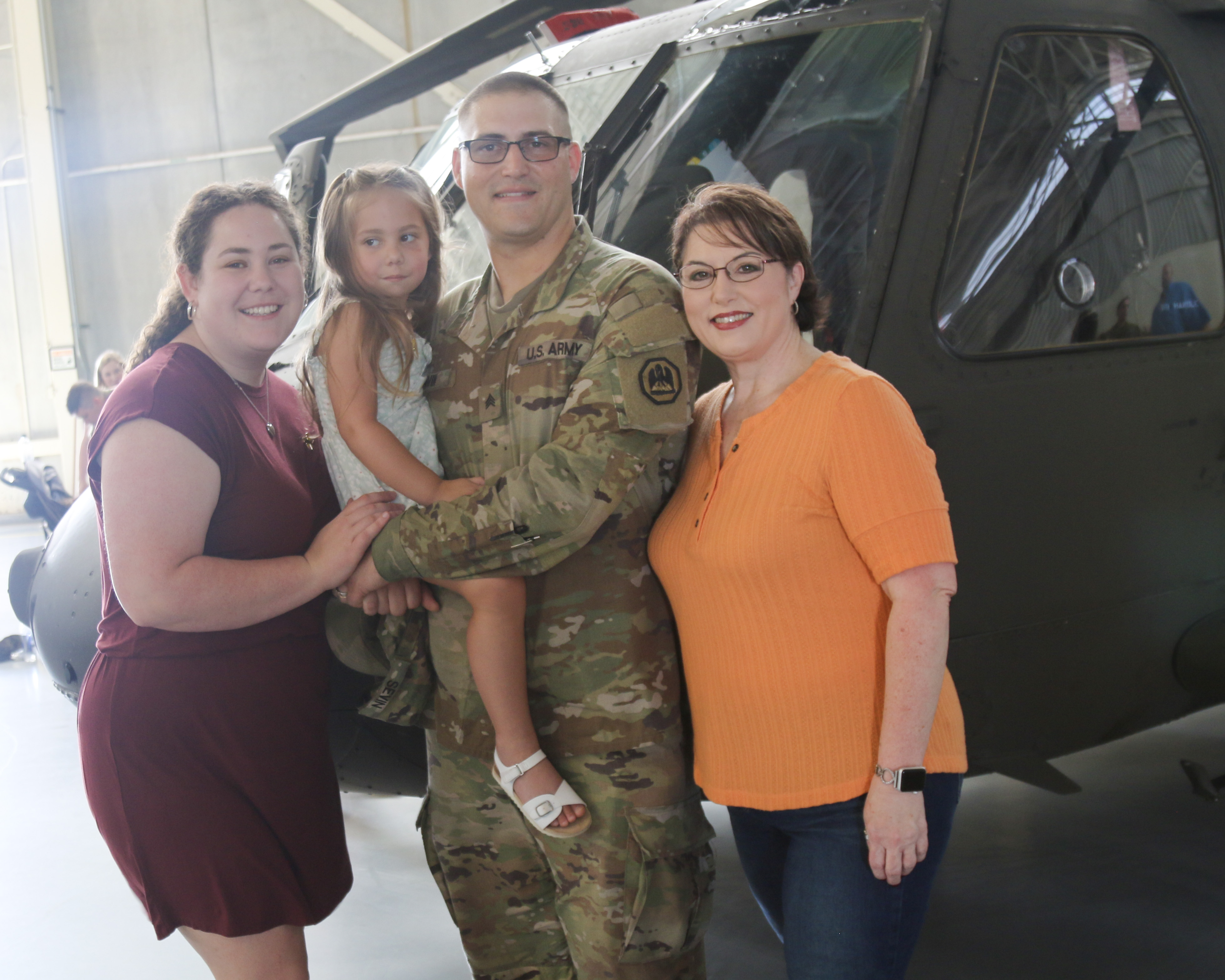 "Soldiers from A, D, and E Companies, as well as Headquarters and Headquarters Company, 1-244th will embark on a one-of-kind mission at Fort Belvoir, Virginia," said Capt. Stephen Gancarcik, commander of A Company, 1-244th. "Soldiers of Task Force JEEP will have the unique opportunity to work alongside our active-duty brothers and sisters. The unique mission opportunities come with unique challenges, but I have the utmost confidence that each and every one of you will work hard, serve honorably and do the Louisiana National Guard proud."
The official party for the ceremony included Maj. Gen. Keith Waddell, the adjutant general of the LANG, Capt. Stephen Gancarcik, commander of A Company, 1-244th, Command Sgt. Maj. Clifford Ockman, command senior enlisted leader of the LANG and 1st Sgt. Aaron Mahnke, first sergeant of A Company, 1-244th.
"To the Soldiers of the three units that are deploying, thank you for being a part of the one percent of the United States population that serves our country and took an oath to support and defend our country against all enemies, foreign and domestic," said Waddell. "Your service enables freedom as well as support for the Joint Emergency Evacuation Plan that you've been missioned with."
Waddell offered the Soldiers advice saying the two most important things during a deployment are teamwork and self-care.
Waddell went on to thank the families and employers for their dedication and sacrifices made while the Soldiers are deployed.
While addressing the Soldiers, Gancarcik expressed his gratitude to the families and loved ones in the crowd.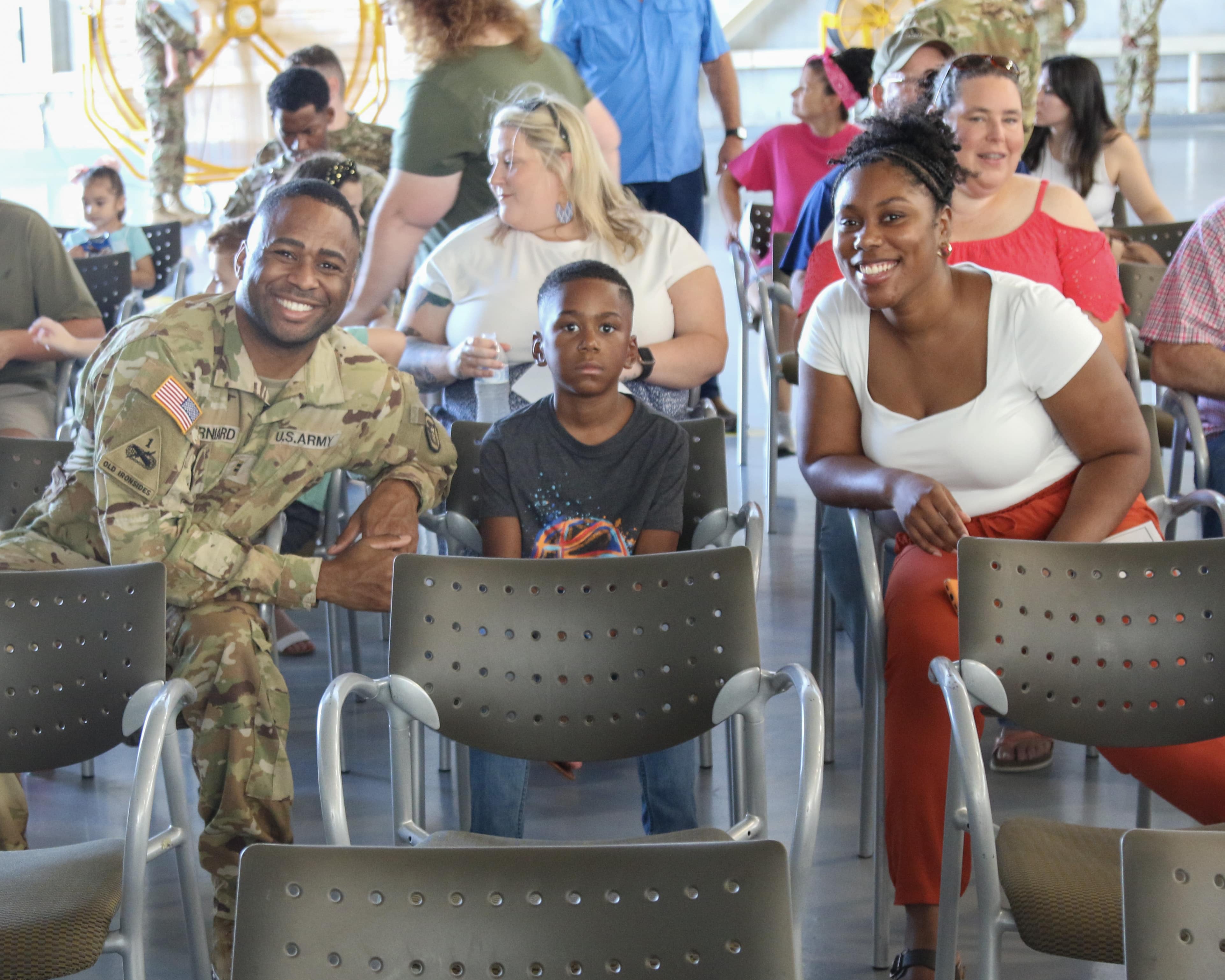 "To the families and loved ones left behind, let me begin by thanking you from the bottom of my heart for your support. Words cannot begin to express how important the role you play is," said Gancarcik. "We could not do what we do without you."
The 1-244th has deployed overseas four times since 9/11 and is a key part of Louisiana's state emergency operations. The unit has provided air evacuations and support for almost every state emergency, including Hurricanes Katrina, Rita and Harvey, the Deepwater Horizon Oil Spill and the multiple floods of 2016. The 1-244th also provides air support for the annual Christmas tree drop in the New Orleans area to help slow coastal erosion.