Metairie native recognized by Army Aviation Association of America
By Staff Sgt. Noshoba Davis, Louisiana National Guard Public Affairs Office
PINEVILLE, La. – Louisiana National Guard Chief Warrant Officer 5 Kevin P. Dares (retired) received the Order of Saint Michael – Gold Award during a ceremony at the Army Aviation Support Facility #1 in Hammond, Louisiana, Sept. 16.
The Metairie native was presented the award by retired Maj. Gen. Tim Crosby, president of the Army Aviation Association of America.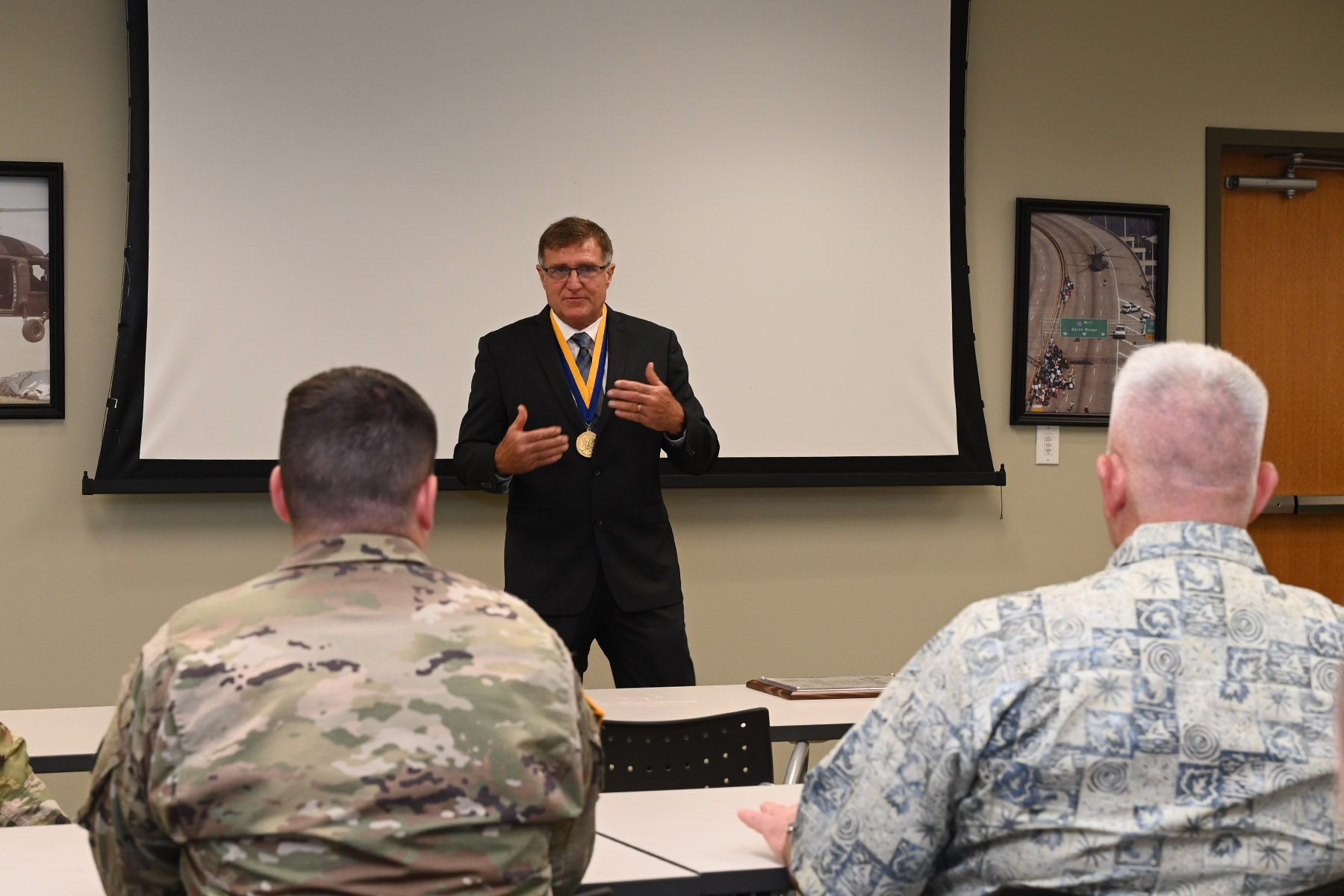 "I am very humbled to receive this award as I know there are many Soldiers who are equally if not more deserving," said Dares. "It is a comfort knowing professional organizations like the Army Aviation Association of America and the National Guard Association of Louisiana provide support to our Guardsmen and families whether at home station or deployed during natural disasters and global conflicts."
The Order of Saint Michael award was established in 1990 as a venture between the Army Aviation Association of America and the U.S. Army Aviation Center. The award includes four categories: Bronze, Silver, Gold and Honorary Knight.
The Order of Saint Michael – Gold Award recognizes aviation individuals who have contributed significantly to the promotion of Army aviation through a lifetime of service. Recipients who receive this award demonstrate the highest standards of integrity, moral character and display an outstanding degree of professional competence. They served the United States Army Aviation community with distinction.
During Dares' recent retirement ceremony, Maj. Gen. Lee W. Hopkins, the LANG's assistant adjutant general, said, "Kevin's legacy is not what he did for this organization, but how he did it. That distinguishes him from so many of his peers. He served with professionalism, he served with honor and he served with the utmost dedication and loyalty to this organization."
Dares, a 1978 graduate of Archbishop Rummel High School and 1982 graduate of Nicholls State University, enlisted in the LANG in 1984 as a private first class and completed his advanced training as an OH-58 helicopter mechanic. In 1986, he began Army flight school training at Fort Rucker, Alabama, and appointed as a warrant officer in 1987.
Dares was assigned to the 1st Assault Helicopter Battalion, 244th Aviation Regiment, where he served as the standardization instructor pilot and flew UH-1 Huey and UH-60 Blackhawk helicopters. While assigned to the 1-244th, Dares deployed to Balad, Iraq, in support of Operation Iraqi Freedom from 2003 to 2005. Dares was mobilized in 2005 in response to Hurricane Katrina and was responsible for establishing a helicopter evacuation zone at the Morial Convention Center, where an estimated 10,000 citizens were evacuated by air.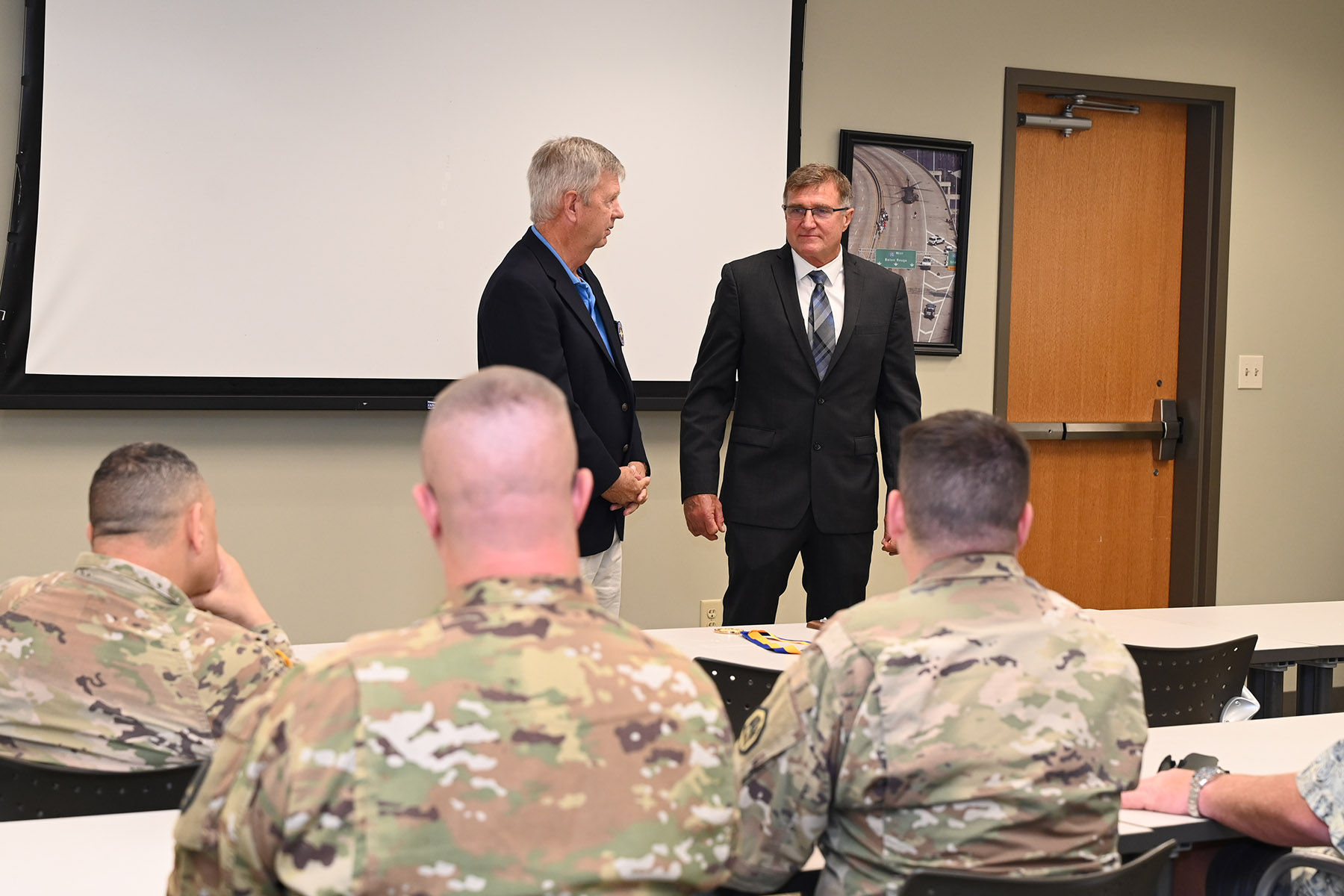 From 2005 to 2008, Dares was assigned to the State Aviation Command overseeing pilot training and standardization for all aviation units in Louisiana. In 2008, he was assigned as the commander of the Operational Support Airlift State Flight Detachment 38 which flies the C-12U Huron, a fixed-wing aircraft used for troop transport within the continental United States, Caribbean and Central America.
While commanding Operational Support Airlift State Flight Detachment 38, Dares was deployed to Djibouti, Africa, from 2008 to 2009, where his unit flew missions throughout the Horn of Africa and Southeast Asia.
On Oct. 1, 2013, Dares was appointed Louisiana's seventh state command chief warrant officer, where he was responsible for informing and making recommendations to the adjutant general concerning warrant officer recruiting, morale, schooling, promotion and retention.
Dares served the state and nation for more than 38 years, accumulating 7,300 flight hours including 400 combat flight hours.
"It's been an honor and privilege to serve our great state and nation," said Dares. "Many thanks go out to my family and the other Soldiers and Airmen who make sacrifices on a daily basis to keep our country safe."
Dares and his wife, Dawn, reside in Folsom, Louisiana. They are the parents of four children and five grandchildren.