National Guard museum in Pineville looking for volunteers
PINEVILLE, La. – The Louisiana National Guard's Louisiana Maneuvers and Military Museum at Camp Beauregard in Pineville is looking for volunteers to help tell the story of central Louisiana's role in the defense of the United States of America.
"We are looking for volunteers who are interested in helping keep our military history alive," said Richard Moran, the LMMM curator.
The LMMM is looking for volunteers who are 16 or older to help restore items, set up displays, answer phones or help give tours of the museum. All volunteers must pass a background check.
"The volunteers can set up their own schedule with me," said Moran. "Right now the volunteer I have works on Fridays. The volunteers can work every day that the museum is open or do just one hour a day, whatever works best for them."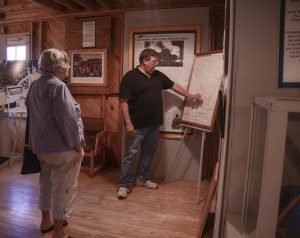 Moran explained the goal is to have at least one volunteer per day.
The LMMM is open Tuesday – Fridays, 9 a.m. to 5 p.m. until August 15 when the hours will switch to Thursday – Sundays, 9 a.m. to 5 p.m. Tours can be reserved for groups after hours or on weekends.
The LMMM's main emphasis is on World War II and the famous "Louisiana Maneuvers". The camps and surrounding airfields played such a prominent part in preparing our men and women for service before the war began and up to the final victory.
This only tells part of the story; Camp Beauregard and Camp Stafford were also used for the Mexican Expedition chasing Francisco "Pancho" Villa, and mobilizing and training for WWI.
"There's so much history in this area, and most people don't even realize it," said Moran. "I'm just wanting to get volunteers in here that are positive workers to tell the story of our military."
For more information on becoming a museum volunteer at Camp Beauregard, please call Richard Moran at 318-641-5733, or visit http://geauxguardmuseums.com.
WHO: The Louisiana Maneuvers and Military Museum
WHAT: Volunteers (Ages 16 and up)
WHEN: Tuesday – Friday, 9 a.m. – 5 p.m.
Starting August 15, Thursday – Sunday, 9 a.m. – 5 p.m
WHERE: Camp Beauregard, Pineville, La., 71360