Shreveport Guardsmen aim for excellence
By Staff Sgt. Garrett L. Dipuma, Louisiana National Guard Public Affairs Office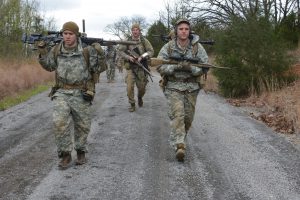 NEW ORLEANS – Staff Sgt. Benjamin Cotten and Sgt. Allen Smith, both Shreveport residents with the Louisiana National Guard's 2nd Squadron, 108th Cavalry Regiment, 256th Infantry Brigade Combat Team, outshot 22 two-man teams and brought home top honors in the 48th Winston P. Wilson National Guard Sniper Championship, March 29-April 3 at Fort Chaffee in Barling, Arkansas.
Smith said that he and Cotten volunteered to compete and then trained together for two years before they actually went to the competition. Their dedication to be the best of the best netted them each a coveted Chief's 50 Marksmanship Badge. The Chief's 50 recognizes outstanding marksmanship during WPW matches.
"The fact that we trained together was vital to our success in the competition," said Smith. "It was important for teamwork and communication."
The competition, hosted by the National Guard Marksmanship Training Center, uses battle-focused exercises and is designed to bring together some of the best marksmen in the nation to test their skill against one another, but they also share their expertise and promote marksmanship training within their units back home.
"Training for the competition did not just involve shooting targets down the range," said Cotten. "We also had to train on field craft skills as well."
Field craft skills include stealth and camouflage, using a two-piece weapon and doing the math to execute a long shot in a tactical environment. Cotten said that these are all highly perishable skills.
"Fighting America's wars is our primary mission, and as the principal combat reserve of the Army and Air Force, the National Guard needs to train to the same standards as the active components," said Gen. Joseph Lengyel, chief of the National Guard Bureau. "The National Guard's world-class marksmanship program serves as a beacon to all that hard work and focus increases lethality and produces combat-ready Soldiers and Airmen."
Events like this are established as a means of heightening the level of marksmanship proficiency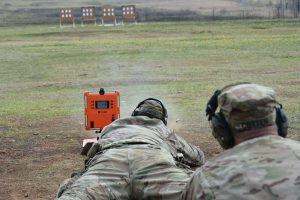 throughout the military and increasing our battlefield lethality. Marksmanship is a perishable skill that is at the forefront of combat readiness, and the National Guard has moved from being a strategic reserve into an operational force, so our need for continually increased readiness has never been stronger.
"Alexander the Great said that it was not the brilliance of generalship and it was not his expertise in logistics that made his army so successful. He said it was the individual warriorship," said Command Sgt. Maj. Christopher Kepner, senior enlisted advisor to the chief of NGB. "Back then that meant expertise with sword, spear, and shield. Today that means expertise with weapons, and this competition highlights our expertise with weapons which will win the next war for us."