Youth Challenge Program graduates more than 200 cadets
By Sgt. Noshoba Davis, Louisiana National Guard Public Affairs Office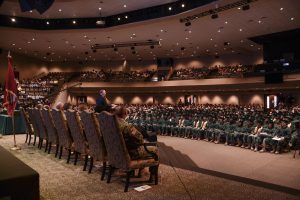 PINEVILLE, La. – Family and friends filled the sanctuary at the Pentecostals of Alexandria Church in Alexandria, to watch 205 cadets graduate from The Louisiana National Guard's Youth Challenge Program during a ceremony, June 10.
The mission of the YCP is to intervene in and reclaim the lives of 16-18 year-old adolescents, producing program graduates with the values, life skills, education, and self-discipline necessary in order to succeed as productive citizens. This second chance education program, offers young people an opportunity to improve their lives through participation in an innovative, alternative school.
Governor John Bel Edwards, Maj. Gen. Glenn H. Curtis, the adjutant general of LANG, Mr. Jack Montoucet, Secretary of Louisiana Department of Wildlife and Fisheries, Command Sgt. Maj. David Pitt, Headquarters U.S. Army Garrison, Fort Polk and Sgt. Marty Fletcher, Pineville Police Department attended the graduation ceremony.
"While we call it a graduation; it's not the end of anything, but the beginning," said Edwards. "You've been given this opportunity for a new beginning, take advantage of it. That's the power and promise of the Youth Challenge Program."
Edwards was the commencement speaker, and is the first seated governor to attend a ceremony since the program started 24 years ago.
Edwards stated that Louisiana has the best National Guard in the country and that the graduates have been in good hands and are leaving better than when they started the program.
He went on to offer advice to the graduating cadets.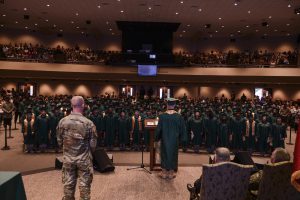 "There's no task to great for you. I hope you know that now. You didn't just receive a second chance, it wasn't given to you. You worked at it, earned it and fought for it," said Edwards. "No matter where you go from here you have the knowledge, the skills and stamina to succeed. You're ready for whatever the next step in life may be…Be a leader for other young people that may be struggling with the same things that you've had to overcome."
YCP is a two-phase program. Tthe first phase is a 22-week residential alternative military-like school that offers cadets an opportunity to work on their education and life skills in a structured and disciplined environment that emphasizes teamwork, discipline, academic excellence and personal growth throughout the entire program.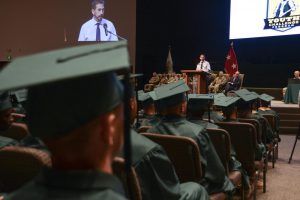 "It's been a really tough five months," said Cadet Joshua Roberts, of Bunkie. "Before I came to the Youth Challenge Program I didn't think of myself as the person that could do what everyone else was doing. I wasn't confident and had low self-esteem, but YCP has taught me that my voice and me as an individual; I matter just as much as anyone else."
Roberts earned cadet of the cycle, the highest prestige that a cadet can earn. He earned his HiSET and plans on joining the Air Guard when he turns 17, with plans of becoming a commercial pilot.
The second phase is a 12-month post-residential phase that consists of case managers and community mentors assisting cadets putting into those action goals they have realized in the residential phase.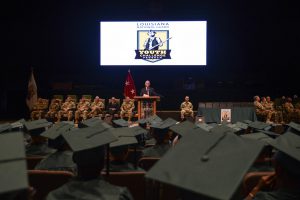 Since 1993, more than 145,000 cadets have graduated nationwide with 25,000 being from Louisiana. Typically, Louisiana graduates approximately 1,400 teens a
year from three locations: Camp Beauregard, Camp Minden near Bossier City and Gillis W. Long Center near Baton Rouge.
More than 80 percent of teens that graduate go on to continue their education, join the work force or enlist into the military. This class accomplished:
An average 4.2 grade level increase; twice the national average
60 percent of Cadets that took the ACT scored above the national average
89 percent passed the HiSET
25 Cadets earned over 132 hours of Bossier Parish Community College hours
26 Cadets earned an industry based certification from Central Louisiana Technical Community College
41 Cadets participated in Jobs for America's Graduates
Over 9,000 hours of community service hours