139th Regional Support Group welcomes new commander
By Spc. Garrett L. Dipuma, Louisiana National Guard Public Affairs Office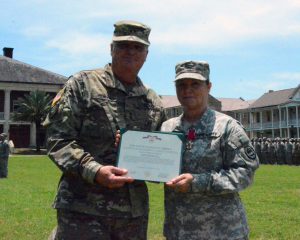 NEW ORLEANS – The Louisiana National Guard's 139th Regional Support Group welcomed Col. Mark Howard as their new commander during an official change of command ceremony at Jackson Barracks in New Orleans, May 15.
Howard, a Baton Rouge native, assumed command from Col. Cindy Haygood, a native of Leesville, who served as commander since Dec. 2012.
Haygood holds a Bachelor of Arts in Economics from LSU and received her commission through the LANG's Officer Candidate School in 1994, where she was the distinguished honor graduate. She is a veteran of Operation Iraqi Freedom and served in support of Hurricanes Katrina and Rita. In her civilian career, Haygood is a small business area manager for Capital One Bank in Baton Rouge.
"I've worked with Mark Howard for over 20 years," said Haygood, "and I can tell you the 139th will be in very capable hands. He is a great leader and he has a great support system."
Haygood continued speaking to the Guardsmen of the 139th and commented on several memories that she had with each component of the RSG. "Leading the 139th was a great opportunity to broaden my skills," she said.
Maj. Gen. Glenn H. Curtis, adjutant general of the LANG, signaled the transfer of leadership by receiving the organizational colors from Haygood and presenting them to Howard.
"You've had all of the key assignments that have led you to a point where you are ready to be a DRU (direct reporting unit) commander and I know the 139th is in great hands with you and your sergeant major," Curtis said to Howard in a speech during the ceremony.
"The Army is a place to be successful if you show initiative," Howard said to his new Troops during his speech. "Col. Haygood and the team she has assembled for the 139th have done a phenomenal job and it's going to be very difficult to bring this organization to the next level because she has set the standard so high."
Howard recognized the many accomplishments that the RSG completed under the former commander and expressed how honored he was to be afforded the opportunity to lead such an outstanding organization. "I challenge each of you to seize initiative and continue the successes of the 139th … Wranglers, let's move forward and protect what matters."
Howard received his commission through the LSU Reserve Officer Training Corps (ROTC) from LSU in 1990 and holds a Bachelor of Arts in Sociology. He is a veteran of Operation Enduring Freedom and served in support of Hurricane Katrina.
Howard's awards include the Bronze Star, the Combat Action Badge, the Meritorious Service Medal and the Army Commendation Medal.
The 139th, headquartered at Jackson Barracks, is made up of three battalions and two companies: The 156th Army Band, the 139th Headquarters and Headquarters Detachment, the 165th Combat Sustainment Support Battalion, the 773rd Military Police Battalion and the 415th Military Intelligence Battalion.