159th Fighter Wing conducts change of command
By Staff Sgt. Cindy Au, Louisiana Air National Guard Public Affairs Office
NEW ORLEANS – Col. Matt Rippen assumed command of the 159th Fighter Wing from Col. Shawn Coco in a formal ceremony held at Naval Air Station Joint Reserve Base New Orleans, March 9.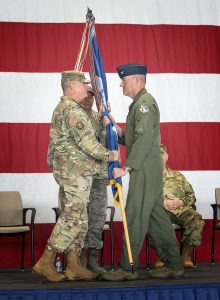 Rippen started his Air Force career at the United States Air Force Academy. From there, he has served as an instructor pilot at multiple bases around the country and joined the Louisiana Air National Guard in 2005 as a flight commander. Rippen has deployed in support of Operations SOUTHERN WATCH, IRAQI FREEDOM and ATLANTIC RESOLVE.
Maj. Gen. Glenn H. Curtis, adjutant general of the Louisiana National Guard, states that Rippen has earned the right to be the next wing commander of the 159 FW by the hard work and dedication from the years he has been in the Air Force.
"It's a command that very few people are chosen for and you have to earn the right to be able to [command], and you have done so," said Curtis. "You have been in all the right assignments all throughout your career in the Air Force and the Air Guard, and you've been very successful with your team in those assignments. [Now] you have two priorities, take care of our Airmen and take care of their families."
As a part of the LAANG, Rippen has served as the commander of various squadrons and groups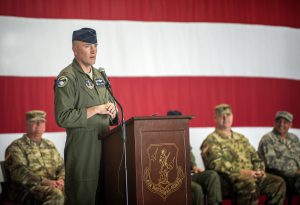 within the wing. He was the commander of the 122nd Fighter Squadron and moved to become the 159th Operations Group commander and the 159th Maintenance Group commander prior to assuming the position of wing commander.
"I'm the proudest member of the 159 FW today because I get to stand here on the stage [as the new wing commander]," said Rippen. "[Col. Coco], you have left us a 'clean picture.' What that means in Eagle driver speak is there are no bad things, no bogies and no known threats out there. We certainly have challenges to overcome and a [predictable] ops tempo that is not going to stop."
Coco expressed gratitude for his time as the wing commander of the 159 FW and is confident that Rippen will continue to overcome challenges and be a great wing commander for the unit.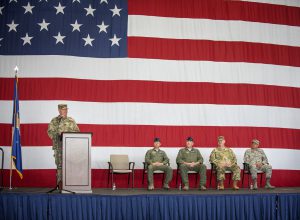 "It's been an honor and privilege to be your commander," said Coco. "[Col. Rippen], you're going to be a great commander. You've earned the privilege, and it's an honor to be able to pass the flag to you. There's no doubt that you will be able to guide the wing through the many challenges that will come up, and you will be a key part of the success of the wing."
Coco had an accomplished career during his time as the wing commander from 2015 to 2019. He will continue his career at the LANG headquarters at Jackson Barracks in New Orleans.