Baton Rouge lawyer promoted to Louisiana Army Guard brigadier general
By Sgt. Noshoba Davis, Louisiana National Guard Public Affairs
PINEVILLE, La. – Louisiana Army National Guardsman John B. Dunlap III was promoted to the rank of brigadier general during an official ceremony at Jackson Barracks in New Orleans, June 2.
He will become the LANG's new assistant adjutant general – Army.
Dunlap, a Baton Rouge resident, will serve as a principal military advisor to the adjutant general of the LANG and be responsible for assisting in the deployment and coordination of programs, policies and plans for the Louisiana Army National Guard.
"I've spent my entire career working with Soldiers and Airmen and their leaders to set conditions for them to be successful in their mission in order to better take care of the men and women of the Louisiana National Guard," said Dunlap. "General Curtis, thank you again for allowing me to continue fighting on for our Soldiers and Airmen."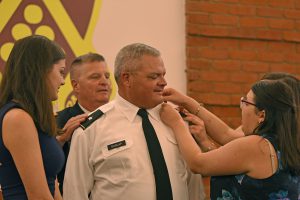 Dunlap commissioned as a Judge Advocate General officer in the Army in 1989 where he served as a prosecutor from 1989-1992. During this time he tried over 40 courts martial that included larceny, murder and kidnapping.
He joined the LANG in 1992 and was assigned to the 256th Infantry Brigade as the assistant logistics officer. Dunlap deployed with the LANG in support of Operation Desert Shield/Desert Storm and Operation Iraqi Freedom. He has also responded to over 25 state emergencies, most notably Hurricanes Katrina and Rita and the flood in August 2016.
He served as the 256th's inspector general and the assistant state inspector general. Dunlap also served as the deputy staff judge advocate for the 61st Troop Command and 256th. While acting as the SJA for 256th in 2004, the 256th had the busiest special court martial jurisdiction in the Army with over 110 courts martial and more than 400 Article 15s.
"When I think about John there are a lot of things that come to my mind, but in service to our nation probably the quality that comes out more than any other to me is loyalty," said Maj. Gen. Glenn H. Curtis, the adjutant general of the LANG. "Through his career and through all those tough times he's finally deserved the right to wear the rank of Brigadier General."
In 2008, Dunlap was appointed as the state judge advocate. He served as the SJA for 10 years. He was responsible for advising the adjutant general on legal issues that affected the Homeland Defense mission or the LANG's mission.
Dunlap is a graduate of St. Paul High School and graduated from Louisiana State University with a Bachelor of Arts in History and earned a Juris Doctorate from Loyola University. He also graduated from the Command and General Staff College and the U.S. Army War College. Dunlap practices private law and is a principal in the Baton Rouge law firm, Dunlap Fiore, LLC. He is also a member of the Louisiana State Bar Association.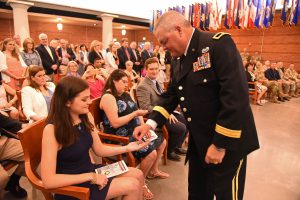 His awards include the Bronze Star with oak leaf cluster, Meritorious Service Medal, Army Commendation Medal with four oak leaf clusters, Army Reserve Components Achievement Medal with one silver oak leaf cluster and two bronze oak leaf clusters, National Defense Service Medal with one bronze service star, Southwest Asia Service Medal with one bronze service star, Iraq Campaign Medal with three bronze campaign stars, Global War on Terrorism Service Medal, Humanitarian Service Medal with two bronze service stars, and Kuwait Liberation Medal for Saudi Arabia and Kuwait.
Dunlap has been married to his wife, Jill, for four years. Together, they have three daughters: Elizabeth, Emily and Camille and two step daughters, Olivia and Mckinley Grace.
Please visit http://www.geauxguard.com for the latest Louisiana National Guard releases, photos and videos.