Bayou Militia excels at Silver Flag exercise
By 1st. Lt Larissa Lambert, 159th Fighter Wing Public Affairs Office
RAMSTEIN AIR BASE, Germany – More than 130 Airmen from the Louisiana Air National Guard's 159th Civil Engineer and Force Support Squadrons, took part in a Silver Flag exercise at Ramstein Air Base, Germany, June 4-12.
Silver Flag is an opportunity for Airmen to receive specialized training that they would not get at home station during a week-long bare-base operations exercise to establish a base from the ground up. The purpose of the exercise is to sharpen critical deployment skills that are needed to support world-wide contingency operations. The event concluded with a two-day exercise to apply the classroom training.
Several different career fields, known as Air Force Specialty Codes, from both squadrons worked together to accomplish tasks required to establish and maintain a forward operating base during initial air operations. In contingency operations, Airmen would construct an airfield, provide power, water, lodging and meals to support approximately 150-500 members at any given time.
"Silver Flag is a training event that brings in those units and systematically go through each individual AFSC, as well as the planning element from A to Z," said Maj. Jeffrey Carroll of Slidell, 159 CES commander. "At the very end of that classroom training piece is the practical application, where the instructors go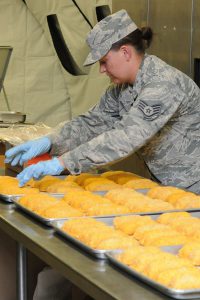 out and we execute a scenario of some X mission that they have given us."
The 159 FSS received instruction on meal prep planning, maintaining accountability, lodging, reporting casualty actions and mortuary affairs. The airmen had to take that knowledge to the field, apply it and adapt to challenges experienced in a deployed environment exercise.
"Anytime you bring a big group together, you're going to have some communications challenges from the get go," said Tech. Sgt. Erik Adams of Bossier City, 159 FSS customer support supervisor. "Definitely I would say that flexibility is probably the most important thing that we could bring to the table. When things are cut off or information is not flowing the way it needs to, be flexible and figure out how to get the mission done."
The 159 FSS personnel Airmen earned a 100 percent on all their tasks.
"They got 100%," said Maj. John Ellis of Mandeville, 159 FSS commander. "You look at all the AFSCs that attended Silver Flag and there was only one AFSC that received positive 'green' marks throughout their entire score card and that was PERSCO."
Food service Airmen were able to set up a mobile field kitchen in less than 30 minutes, which is the fastest time their instructor had seen in the last two years. Additionally, they served more than 130 personnel in less than an hour with only four food service specialists.
Senior Airman Franciscoadan Orellana of Gretna, 159th Mission Support Group and Senior Airman Vong Trieu, 159 FSS, were also recognized as outstanding performers and received a commander's coin. They were the only two Guardsmen to receive that honor.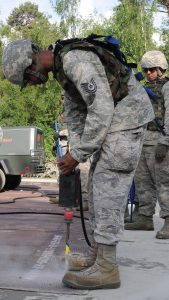 The 159 CES received hands-on training in runway repair, emergency airfield lighting, emergency management, water purification, aircraft arresting systems and power distribution.
"Our priority is expedient repair of craters in runways," said Senior Airman Nathin Schuessler of Hammond, 159 CES structure airman. "We get the run way operating as quickly as possible so that we can get the birds in the sky."
The Airmen also planned and conducted a convoy, performed area sweeps for unexploded ordinances, executed a bed down plan and secured chemical spills. For the contingency exercise, the Airmen had to respond to simulated gunfire and missile attacks to demonstrate their ability to operate in wartime conditions.