Director of the Air National Guard Visits the 159th Fighter Wing
By Staff Sgt. Cindy Au, 159th Fighter Wing Public Affairs Office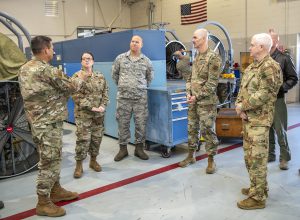 BELLE CHASSE, La. – Lt. Gen. L. Scott Rice, director of the Air National Guard, visited the 159th Fighter Wing, Louisiana Air National Guard at Naval Air Station Joint Reserve Base New Orleans, Nov. 2-3, to meet with wing leadership and Airmen, learn about their mission and to answer questions that Airmen had for ANG leadership.
Accompanying the general was his wife, Mrs. Nancy Rice, Chief Master Sgt. Ronald Anderson, command chief of the ANG, Maj. Gen. Glenn H. Curtis, the adjutant general of the Louisiana National Guard, Brig. Gen. Peter R. Schneider, the assistant adjutant general of the LA ANG, Chief Master Sgt. Allan Floyd, the state command chief of the LA ANG and Chief Master Sgt. Gerald Raynal, the command chief of the 159 FW.
Rice and Anderson were escorted around the wing to various shops to see Airmen performing their jobs.  Rice spoke to Airmen from the wing at two "All Call" assemblies during the weekend, where Airmen were given the opportunity to ask the visiting ANG leadership questions.  Rice emphasized the importance of self-care and maintaining a sense of balance that is crucial to resiliency among the force to stay mission ready and have the ability to serve our country and state at a moment's notice.
"How you respect and take care of each other and how you look to the left and right of you and how you respect them is how they respect and take care of you," said Rice.  "When the unit is taking care of each other, I see things like off-the-chart recruiting, off-the-chart retention, off-the- chart mission capability rates and aircraft availability rates and a ten to fifteen percent capability rate above any other unit in the world.  That happens because you are a high performance individual with teamwork that is exceptionally capable [across the board].  To all of you and what you have done and how well you do this teamwork and fly, fight and win for our Air Force is impressive."
Anderson emphasizes the importance of family, not only in the personal lives of Airmen but also about the guard family as a whole. Rice and Anderson state that they want the members of the ANG to build a guard family and make sure that everyone feels included and that they can serve for generations to come.
"General Rice, Nancy and I have been to a lot of Wings to understand who you are and how to advocate and make sure that there is an organization here for all generations,"  said Anderson. "In order to do that, we have to walk and talk with you and get your questions to understand what you need to continue your success.  The missions that you have accomplished, the success that you and the demonstrations of your ability to execute not only for home land and taking care of your family but also down range.  We really want to understand what you need to continue your success.  Because you are so good, I want to say thank you for what you do and thank you for the sacrifices that you have made and thank you for the sacrifices that your family makes for you to able you to be here."
Staying up to date on training and maintaining the excellence that comes with being in the ANG has helped the wing achieve its place in the top-three most outstanding units in the country.
"The wing has been a part of all the major operations and storms and has worked hard to stay mission ready and capable," said Col. Matthew Rippen, commander of the 159th.
Rice praised the unit for their part in restoring school network systems after ransomware hackers compromised them so that school in affected parishes would be able to start as scheduled.
Nancy Rice, a New Orleans native, spoke to the family programs and chaplain's office about the resiliency that the ANG practices with their Airmen and the 159th's Front Porch program.
"You captured something with the Front Porch concept that you have that you can make people feel comfortable and yet you're accessible and go to the people," she said.  "People can let down barriers and it's great that you can meet people face to face. The military is a big family and to capture the essence of that family experience in that format is fantastic, I've never seen anything like that.  It's exciting to see something like that in so many ways and in supporting families.
Tech Sgt. Tia Rutherford, a safety specialist, gave insight on what it was like to have the director and command chief of the ANG visit the Wing.
"It's always good to have people of leadership that are willing to sit down with the Airmen and talk to them candidly, but to also show that their words are true and that they put action behind it," said Rutherford.  "As someone that always wants to go above and beyond for our Airmen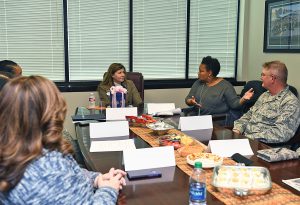 and make sure that they know that they are not only my brothers and sisters, but also people that I care for whether we are in the uniform or no … to be recognized for that is amazing."
Rutherford was coined by Rice and Anderson for her accomplishments and contributions to the wing.
For the Wingmen of the 159th, ANG top leadership taking the time to visit Airmen, speak of their accomplishments, listen to concerns and answer their questions was a great opportunity for the unit overall and fosters continued mission-ready capability and increases unit moral.