La. Guard's Tiger Brigade welcomes new command team
By Staff Sgt. Garrett L. Dipuma, Louisiana National Guard Public Affairs Office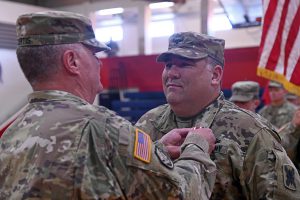 PINEVILLE, Louisiana – Col. William T. Rachal relinquished command of the Louisiana National Guard's 256th Infantry Brigade Combat Team to Lt. Col. Scott Desormeaux during an official ceremony at Comeaux High School in Lafayette, Nov. 2.
Additionally, four battalions in the Tiger Brigade changed command teams, to include: 2nd and 3rd Battalion, 156th Infantry Regiment; 2nd Squadron, 108th Cavalry Regiment; and the 199th Brigade Support Battalion. The brigade, which consists of over 4,000 Louisiana Guardsman, has units headquartered in towns across the state, including Lafayette, Thibodaux, New Orleans, Baton Rouge and Shreveport.
"I'd like to thank Colonel Rachal and Command Sergeant Major [Patrick] Sandel for the wonderful job that they've done over the past few years," said Maj. Gen. Glenn H. Curtis, adjutant general of the LANG. "I know Lieutenant Colonel Desormeaux will continue to lead the brigade in an exemplary manner through Pacific Pathways and our upcoming deployment. I am confident that the 256th will continue on the path of success in his capable hands."
Rachal, a native of Merryville and McNeese University graduate, has commanded the brigade for nearly three years. During that time, the 256th completed both the eXportable Combat Training Capability exercise at Camp Shelby, Mississippi, and a rotation through the Joint Readiness Training Center at Fort Polk. In addition, his Soldiers have stood up in support of multiple state emergencies, including Hurricanes Harvey and Barry.
"I'd like to thank you for the opportunity to lead such fine Soldiers. Throughout my time in command, I've been continuously assured that our nation is in good hands with the Soldiers we have before us today," said Rachal. "Over the last three years of being in command of the Tiger Brigade, I've been amazed at the flexibility that I've seen in our Soldiers. Lieutenant Colonel Desormeaux, I know that the brigade is in good hands. I know that you will continue to hone our warfighting skills during Pacific Pathways and other training events in preparation for our upcoming deployment."
Desormeaux, a resident of Abbeville and graduate of Northeast Louisiana University (now University of Louisiana Monroe), enlisted in the U.S. Marine Corps in 1989 and commissioned into the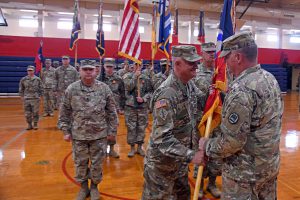 LANG through the Reserve Officer Training Corps upon graduating from NLU in 1994. Before assuming command of the 256th, he commanded 2nd Battalion, 156th Infantry Regiment. Desormeaux has deployed to Kuwait in support of Desert Storm, to Iraq in 2004 and 2010, and to Japan, Belize, and Haiti in support of National Guard operations.
"Thank you for the tremendous opportunity to lead the brigade," said Desormeaux. "We have a couple of challenging years ahead of us, and I know we can do this as a family."
In addition to deployments to Iraq and Afghanistan, the Tiger Brigade has been activated to support emergency operations to include Hurricanes Katrina, Rita, Ike, Gustav, Harvey and Barry, the Deepwater Horizon oil spill and the multiple major flood events that ravaged Louisiana in 2016.