Former Louisiana Guard command sergeant major inducted into hall of fame
By Sgt. Noshoba Davis, Louisiana National Guard Public Affairs Office
PINEVILLE, La. – Retired Command Sgt. Maj. James H. Mays was inducted into the Louisiana National Guard Hall of Fame during an official ceremony at Esler Field in Pineville, May 6.
The LANG Hall of Fame was established to honor former Louisiana Guardsmen who distinguished themselves in their military and civilian endeavors. To be eligible for admission to the Hall of Fame, a nominee must have at least five years of creditable service in the LANG and have served faithfully and honorably as an officer, warrant officer or enlisted member.
Mays retired in 2014, concluding his nearly 41-year military career. His last appointed job was as the state senior enlisted advisor in 2013, where he served as the military advisor to the adjutant general on all enlisted matters to include training, health, welfare and morale of troops.
"This was a total surprise. I did 41 years in the Guard and never expected anything like this," said Mays. "I am extremely honored with this being able to be inducted into the hall of fame; it means a lot."
During the ceremony, Maj. Gen. Glenn H. Curtis, the adjutant general of the LANG presented Mays with a certificate for his service. Curtis and Mays unveiled a portrait of Mays, and his portrait will join those of 19 other hall of fame inductees.
"He [Mays] taught me a lot about being a Soldier. He taught me about being responsible for yourself and your actions," said Curtis. "People wanted to follow him, and they still do. He would never ask us to do anything that he already had not done or was not willing to do."
Mays, a Deville native, graduated from Buckeye High School. In 1974, he enlisted into the Louisiana Army National Guard as a light wheel mechanic. Mays served in various positions of leadership during his career to include platoon sergeant, construction engineer supervisor, first sergeant, post sergeant major and task force command sergeant major.
In 1995, after 21 years of service, Mays was promoted to the rank of command sergeant major. Over the next 19 years, he served as battalion command sergeant major for 199th Brigade Support Battalion and 1st Battalion, 156th Armor. Mays also served as the brigade command sergeant major for the 256th Infantry Brigade Combat Team in support of Operation Iraqi Freedom in 2004.
Mays served as the task force command sergeant major during the response to Hurricane Katrina in New Orleans, where the LANG safely evacuated tens of thousands of stranded citizens from flooded homes.
In 2008, Mays was appointed as the command sergeant major of the Louisiana Army National Guard.
"The backbone of the Army is the first sergeants, platoon sergeants and your squad leaders," said Mays. "It comes back to the Soldiers. You've got to train them, feed them, clean them up and let them rest. Then you've got a happy Soldier who will do anything you want from them."Mays holds several distinguished awards from his time in service, including the Legion of Merit, the Bronze Star, the Meritorious Service Medal, the Army Commendation Medal, the Louisiana Legion of Merit, the Louisiana Cross of Merit and the Louisiana War Cross.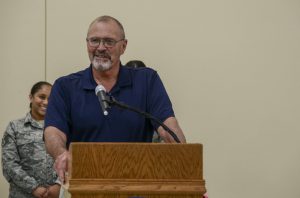 Mays is also a graduate of the U.S. Army Sergeants Major Academy and Command Sergeant Major Course. He was a member of the Louisiana Army National Guard Enlisted Association and the Enlisted Association of the National Guard of the United States.
Mays and his wife, the former Cindy Spence, reside in Pineville and have three children and seven grandchildren.
Since his retirement Mays spends his time with his grandkids, traveling with his wife, fishing and hunting.
"I get to do whatever I want to do. I go fishing, hunting and a little bit of traveling, as well as doing work around the house," said Mays.
Please visit http://geauxguard.com/ for the latest Louisiana National Guard releases, photos and videos. Like us on Facebook, follow us on Twitter, Flickr, and YouTube!