Jonesville native receives MacArthur Leadership Award
By Sgt. Noshoba Davis, Louisiana National Guard Public Affairs Office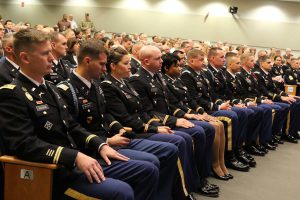 PINEVILLE, La. – The Louisiana National Guard's Capt. Chad Ford, of Jonesville, was one of 28 officers to receive the General Douglas MacArthur Leadership Award during an official ceremony at the Pentagon in Washington D.C., June 15.
The GDMLA recognizes company grade officers and warrant officers who demonstrate the ideals for which General MacArthur stood for: Duty, Honor and Country. It also promotes and sustains effective junior officer leadership in the Army.
"I've been blessed during my 19 years of service in the LANG with many opportunities, countless challenges and unforgettable memories," said Ford. "Just to be nominated by my squadron commander for the GDMLA was a huge honor in itself, but to actually receive the award has been one of the true highlights of my career."
Ford is the commander of C Troop, 2nd Squadron, 108th Cavalry Regiment, 256th Infantry Brigade Combat Team.
"There are 60,000 captains and warrant officers in the Army today, and this honor goes to only 28 of our best young officers," said Gen. Mark A. Milley, U.S. Army Chief of Staff. "Of these 28 awardees, 14 of them are in the active component and 14 are in the Reserve component. It's important to recognize we are a total Army – not just regular Army, not just special forces, not just rangers or the 82nd. We are a total Army."
Each recipient was presented a 15 pound bronze bust of MacArthur mounted on a walnut plaque by Milley and Patrick Herman, director of the MacArthur Foundation.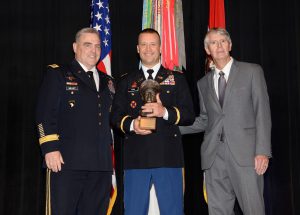 "I'm very happy for him. I'm very happy for the unit; it's quite an honor," said Maj. Gen. Glenn Curtis, adjutant general of the LANG. "It's a measure of how well the state of Louisiana and the National Guard does; it shows we have a good leadership program. Guys like Capt. Ford go on to become lieutenant colonels, colonels and maybe generals. They are very effective and solid leaders for our organization."
The recipients are chosen from across the Army with only six captains and one warrant officer, coming from the National Guard. Ford was nominated by his former squadron commander, Lt. Col. Cameron Magee.
"Capt. Ford is the most meticulous planner I've ever worked with. He spends countless hours throughout the month reading squadron operation orders, developing his plan and being the most prepared that he can be," said Magee. "His unit, "Cold Steel" (C Troop, 2-108th) is a unique unit; they are made up of infantrymen and perform dismounted recon missions for the brigade. During all hazards, their zodiac boat teams and troopers are always in demand."
Ford earned his commission from officer candidate school in 2007 and his branches include transportation, logistics and armor. He has a bachelor's degree in Computer Information Systems from the University of Louisiana at Monroe and a master's degree in international business from Louisiana State University.
"This award would not have been possible without the many great mentors I've had over the years," said Ford. "My wife Rosie is the best battle buddy in the world; without her support through three separate commands and her willingness to spend literally hundreds of hours in local coffee shops with me while I study and work on the many tasks for this "part-time" job I care so deeply about, I would not have any chance of success."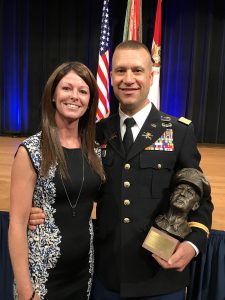 Some of Ford's awards include the Army Commendation Medal, the Army Achievement Medal, the Army Reserve Components Achievement Medal, the Good
Conduct Medal, the Iraq Campaign Medal, the Humanitarian Service Medal, the Military Outstanding Volunteer Service Medal, the Armor and Cavalry Leadership Award and the Honorable Order of Saint Christopher.
Ford is married to Rosie Beer Ford of Nova Scotia, Canada, and lives in Baton Rouge with his son, Courtland, daughter, Shelby and two step daughters, Mandy and Jessica.
Previous awardees from the LANG are retired Col. Michael Borrel in 1991, Maj. Gen. Glenn H. Curtis in 1992 and Col. Keith Waddell in 1999.