La. Air National Guard provides security, aid, comfort
By Master Sgt. Dan Farrell, Louisiana National Guard Public Affairs Office
BATON ROUGE, La. – The Louisiana Air National Guard mobilized more than 100 Airmen to maintain order and provide assistance at the Celtic Media Centre movie studio facility shelter in Baton Rouge in response to rising floodwaters that forced thousands of residents to evacuate their homes, Aug. 14.
Working with several agencies that include the American Red Cross, FEMA, the Louisiana Governor's Office of Homeland Security and Emergency Preparedness, Baton Rouge Police and Louisiana State Troopers, the mobilized Guardsmen worked quickly to secure the large facility as nearly 3,000 evacuees began arriving Sunday afternoon.
"The people here are heartbroken over their loss of property," said Lt. Col. Kelly Sullivan, 122nd Air Support Operations Squadron Commander. "We have instructed our Airmen to provide security first, but also provide aid and comfort."
Airmen from all over the state, including the 122nd Air Operations Squadron in Pineville, the 259th Air Traffic Control Squadron in Alexandria and the 159th Fighter Wing in Belle Chasse, are currently working at the Baton Rouge shelter in various roles apart from their military specialty.
Although trained as an F-15 aircraft avionics technician, Master Sgt. Ben Banchs, transported several special needs evacuees by bus from the shelter to a temporary facility located near Louisiana State University's campus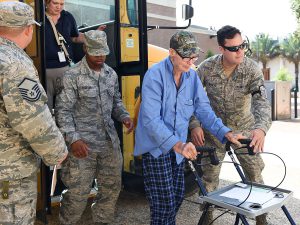 to treat those requiring medical assistance.
"This is why our ancillary training is so important," said Banchs. "I joined the Guard to help people. In state emergencies like this, we do whatever is needed to save lives and protect property."
Working directly with the American Red Cross, shelter manager Mr. Ryan LeMaire talks about the significance of having a twenty-four-hour National Guard presence at the shelter.
"Not only has the National Guard provided security, but also provided a wealth of advice and information on how to handle certain situations that the Guard has seen in recent disasters. We have greatly benefited from their expertise in the logistics of moving things all around the world and we really appreciate everything the National Guard has done," said Ryan.