La. Guard awards support program personnel
By Capt. Peter Drasutis, Louisiana National Guard Public Affairs Office
NEW ORLEANS, La. – The Louisiana National Guard hosted an awards ceremony for the Soldiers and civilian personnel from the many branches of the Service Member and Family Programs at Jackson Barracks, May 24, to acknowledge the commitment and support they provide to LANG Soldiers and Airmen.
The SMFP represents a collective effort between multiple Louisiana National Guard resources, such as the Child and Youth, Prevention and Risk Reduction, and Psychological Health programs that provide accessible and effective resources to service members and their families.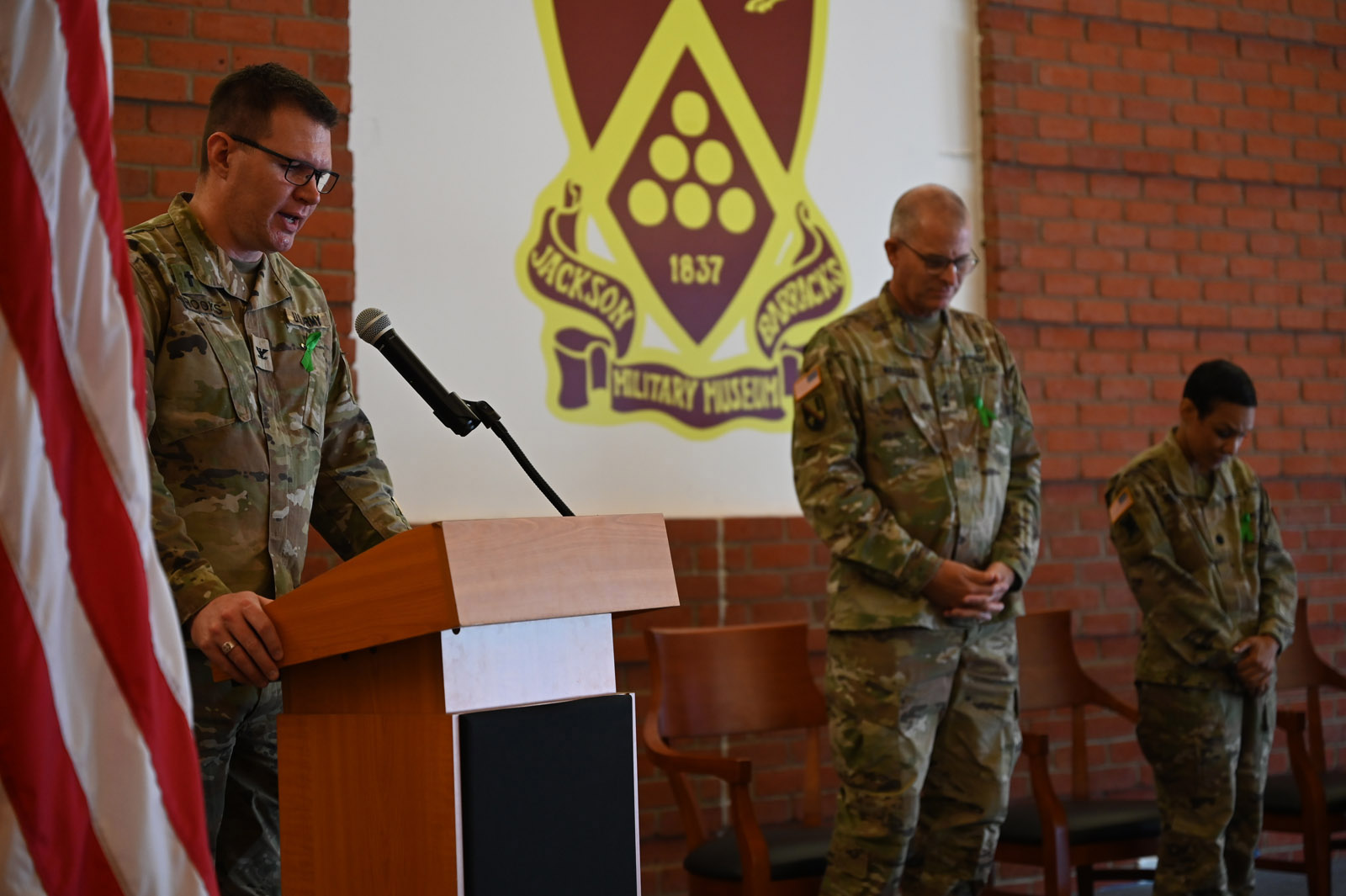 "The SMFP office is unique because we really try to work together to integrate our services to our service members," said Col. Page Brooks, state command chaplain, of the collective mission. "This is particularly important for providing holistic care to service members so they can maintain adequate readiness and resiliency during their missions."
Maj. Gen. Keith Waddell, the adjutant general of the Louisiana National Guard, was there to give his remarks and present awards to several members of the SMFP for their efforts and contributions. Accompanying Waddell was an official awards party consisting of Lt. Col. Ebony Carter, chief of SMFP, Chief Warrant Officer 5 Robin Williams, command chief warrant officer of the LANG, and Command Sgt. Maj. Clifford Ockman, command senior enlisted leader of the LANG.
"As SMFP division chief, I can confidently say that our team does not work for praise and recognition. However, their tireless efforts are certainly worthy of recognition! Today, I was very proud to see their service be acknowledged," said Carter. "I am grateful to Maj. Gen. Waddell and Command Sgt. Maj. Ockman for this day of recognition for the SMFP and to the LANG Foundation for sponsoring the event."
Select individuals received awards such as the Meritorious Service Medal, Louisiana Cross of Merit, Louisiana Commendation Medal and Louisiana Distinguished Civilian Service Medal.
Brooks received the Meritorious Service Medal for exceptionally meritorious service in the performance of his duties as senior chaplain and his dedication, sense of duty and professionalism which had a direct impact on the spiritual development as well as the readiness and resiliency for more than 11,000 Soldiers and Airmen.
For an exceptional performance as the SMFP division chief, Carter received the Meritorious Service Medal. Her dedication, sense of duty and professionalism had a direct impact on the development of Health and Wellness programs as well as readiness and resiliency for all Soldiers and Airmen of the LANG.
In recognition of countless hours of support, participation and leadership that he contributed to the SMFP Division and the Office of Family Programs Branch; Command Sgt. Maj. Larry Johnson was awarded the Louisiana Cross of Merit.
For his specialized knowledge and dedication that contributed to the successful accomplishment of more than 9,600 drug tests, Sgt. 1st Class Todd Royer received the Louisiana Commendation Medal for his outstanding service to the Prevention and Risk Reduction program.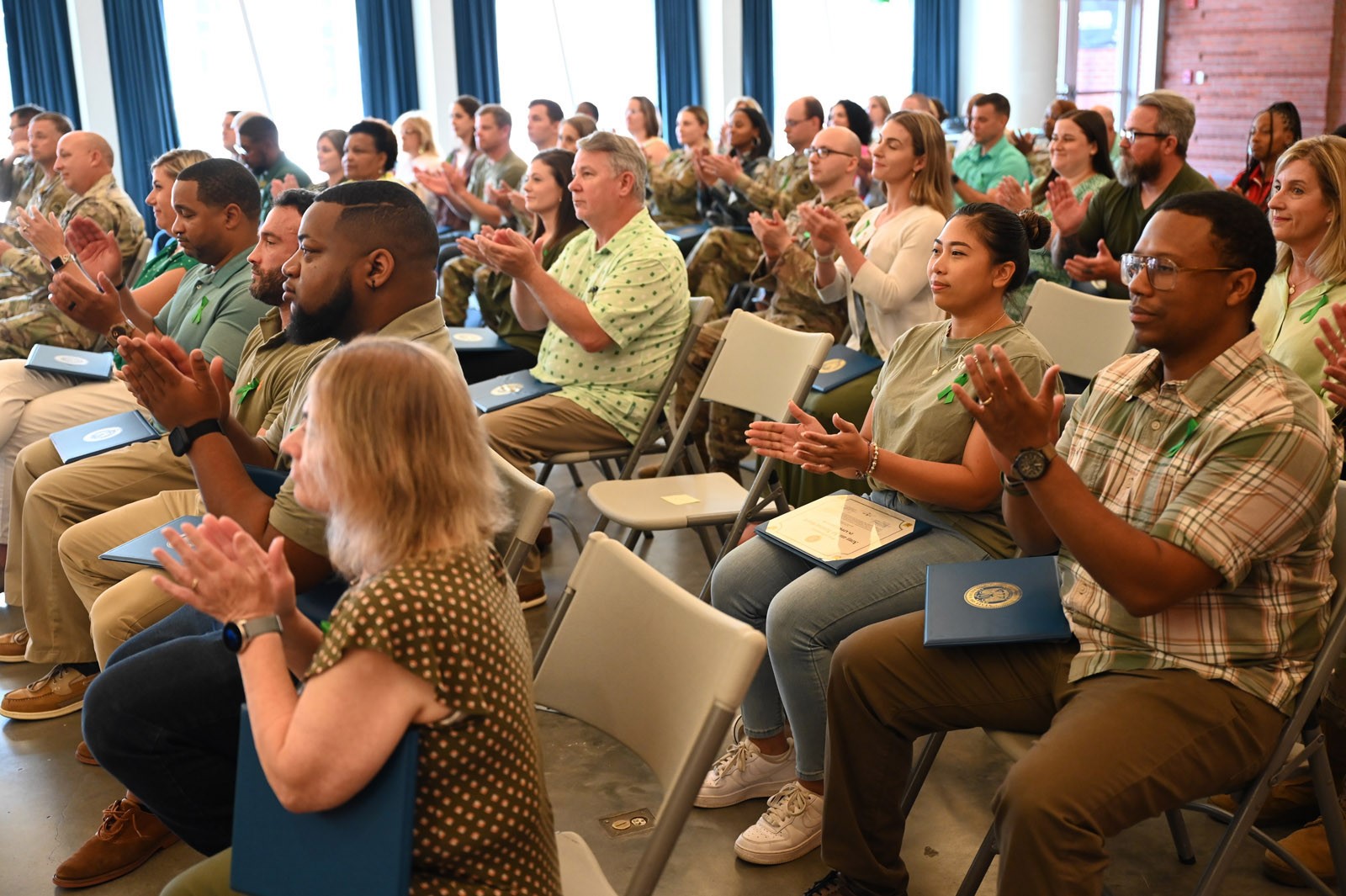 Civilian SMFP staff members Clayton Bridgeman, Doug Harris, Damion Johnlouis, Mikelle Ricou andCherie Spooner were all awarded the Louisiana Distinguished Civilian Service Medal for their invaluable institutional knowledge and dedication which contributed to the ongoing success of the SMFP. Thirty-eight additional service members and civilian personnel were presented with certificates for their continued dedication to the efforts of the SMFP.
"The work done in Service Member and Family Programs often occurs after normal business hours and usually means spending time with service members and their families at some of their lowest, most devastating moments," said Carter. "We devote countless hours to develop programming, research and community capacity building to enhance our services. This work is often thankless, but the personnel in Service Member and Family Programs are some of the finest in their respective positions."