La. National Guard members trailblaze in medical community
By Staff Sgt. Noshoba Davis, Louisiana National Guard Public Affairs
PINEVILLE, La. –Col. Katrina Lloyd, an Alexandria, Louisiana native, and Sgt. 1st Class Howard Bushey, a Prairieville, Louisiana native, were inducted into the Order of Military Medical Merit.
Founded by the Commanding General of the U.S. Army Health Services Command in April 1982, the O2M3 is a unique, private organization meant to recognize excellence and promote fellowship and esprit de corps among Army Medical Department personnel.
The O2M3 is awarded to select individuals who have clearly demonstrated the highest standards of integrity and moral character, an outstanding degree of professional competence, served in the Army Medical Department (AMEDD) for a minimum of 15 years with selflessness and made a sustained contribution to the betterment of Army medicine.
Sgt. Maj. Sherry Blackwell, the senior enlisted advisor of the U.S. Army Medical Command, Reserve Affairs Directorate, was a key person in Lloyd's and Bushey's nominations for the O2M3.
"Both were nominated based on the significant impact of their contributions to the AMEDD," said Blackwell. "It was an honor for me to nominate Col. Lloyd and Sgt. 1st Class Bushey … the hardest part of submitting their nomination packets was deciding which of their many accomplishments to include on the nomination form."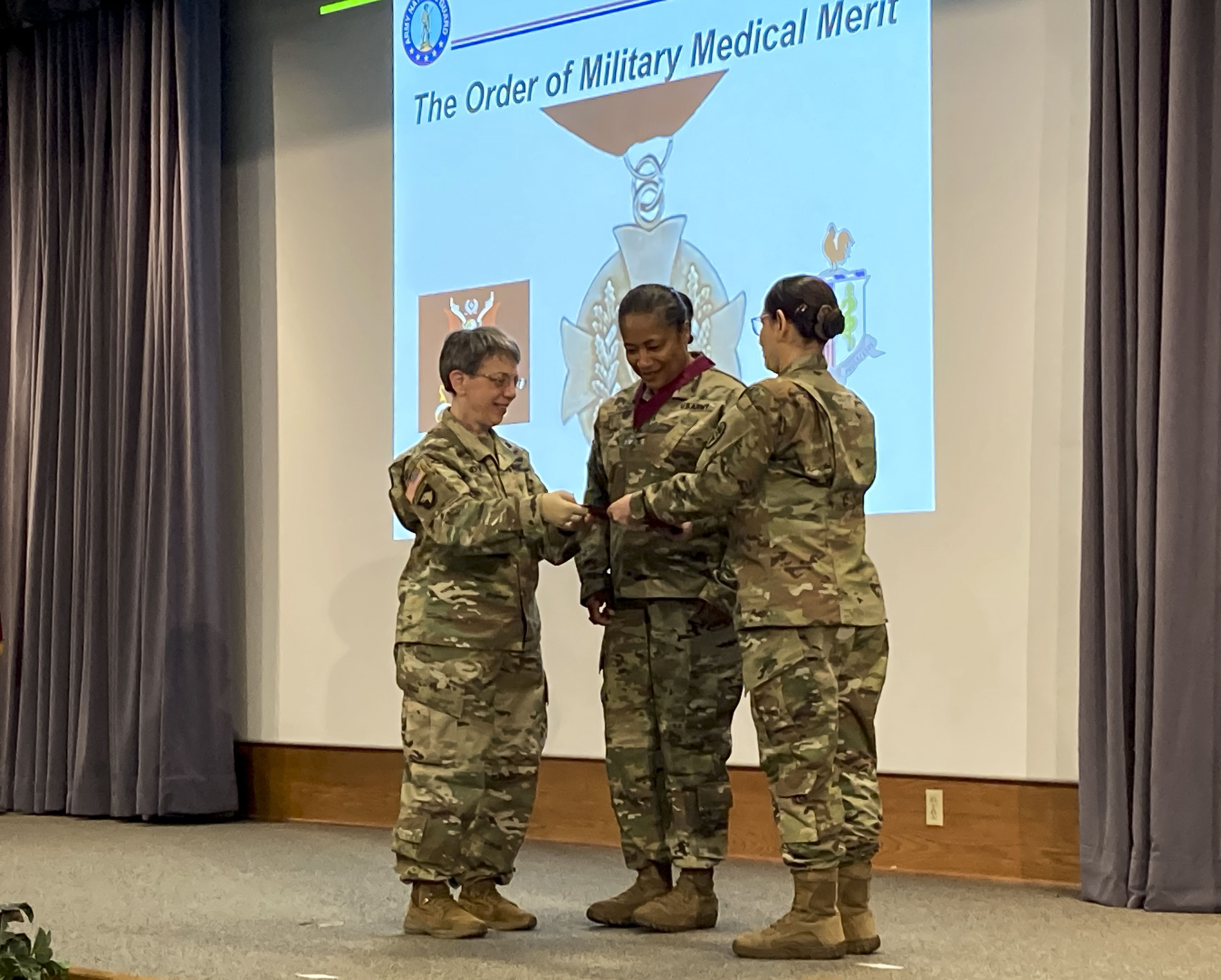 "To be recognized by your peers is one of the highest honors, and I am grateful," said Lloyd.
Lloyd is currently the Louisiana National Guard state surgeon and enlisted in 1986 as a combat medic before commissioning through the Officer Candidate School in 1997. She served as a medic for more than 10 years before becoming a nurse practitioner.
"In 2013, Col. Lloyd became the first African American woman and nurse practitioner to be appointed as the deputy state surgeon and LANG Medical Command administrative officer," said Blackwell describing her as a trailblazer.
In 2018, Lloyd was named the state surgeon and commander of LA MEDCOM while still serving as LA MEDCOM's administrative officer. She is the first African American and first woman to hold any of these positions, as well as the first Soldier to hold all three simultaneously and the first non-physician to be named state surgeon.
She also implemented the Annual Health Care Team meeting for the LAARNG, which improved knowledge sharing within the AMEDD community and enhanced medical readiness creating a true collaboration between medical professionals and the supportive needs of the warfighter and state.
"Having been a combat medic herself while an enlisted Soldier, she understands the impact of realistic training and the obstacles endured," said Blackwell. "The LAARNG's 68W program has consistently been the epitome of the sustainment training program in the nation."
Blackwell continued, "Her ability to secure funding ensures the AMEDD enlisted Soldiers have opportunities to obtain the highest level of training. The top cover she provides allowed others to succeed."
Lloyd's biggest goal as a medical officer is to provide a safe space and create an open door in assisting Soldiers while providing empathetic and holistic healthcare.
"I believe I have helped change what leadership looks like for women and the AMEDD community. I believe AMEDD personnel now know possibilities are there for broadening opportunities outside of clinical service," said Lloyd.
Bushey is the LAARNG Combat Medic program director. He joined the LANG in 2000 and has served as a combat medic for almost 22 years. He was an emergency medical technician for 13 years before earning his Advanced EMT in 2014. He recently became a paramedic in 2022.
Bushey has been the LAARNG's 68W program director for more than 10 years and has instructed thousands of students since becoming program director.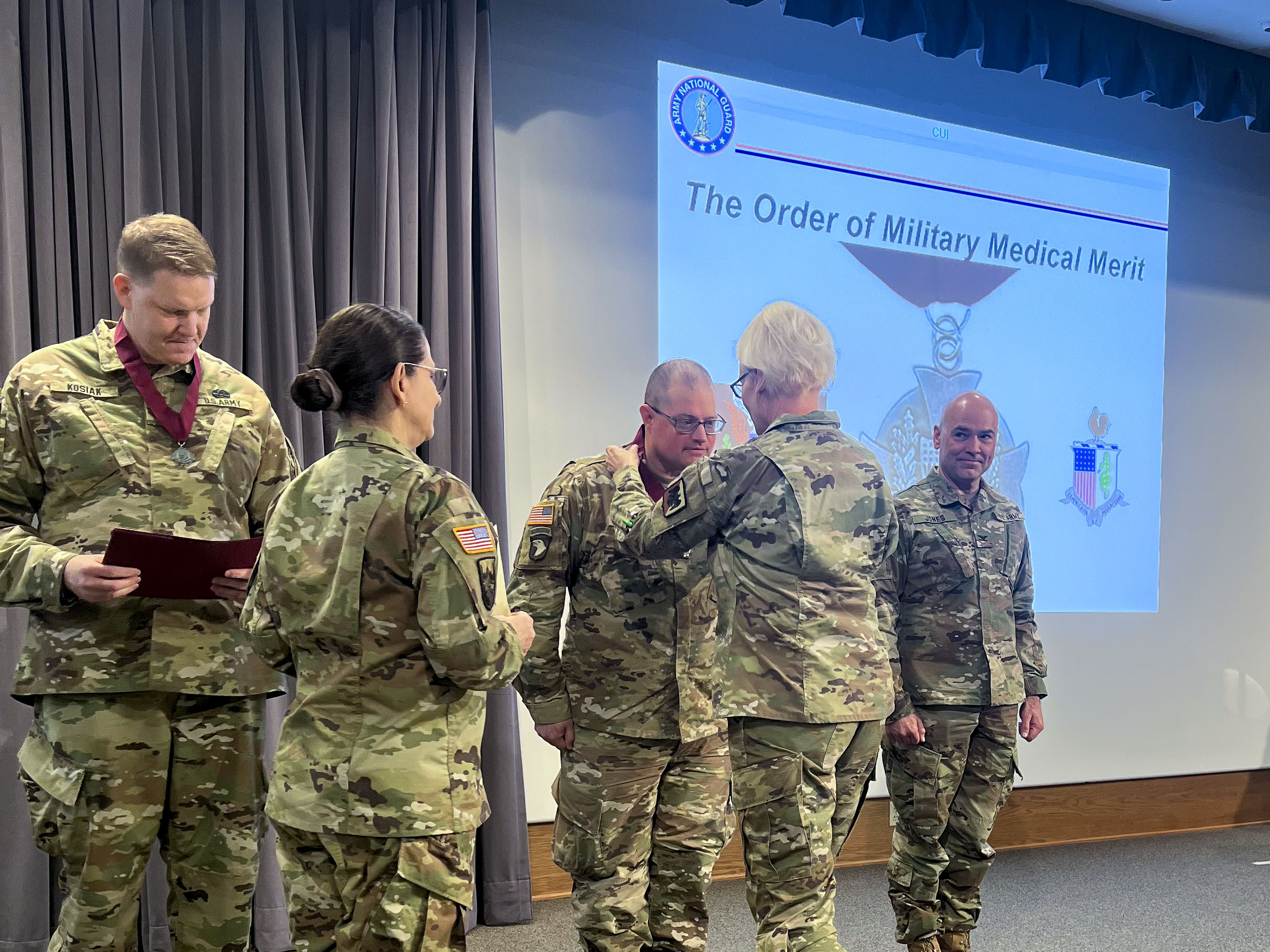 "My goal as a medical instructor has always been to ensure my medics are prepared for the battlefield and real-world medical emergencies," said Bushey.
As program director, Bushey has created and coordinated the first National Guard program to host medical cadaver training on a National Guard installation, led the 54 states and territories within the ARNG in mandatory 68W military occupational specialty recertification goals consecutively since 2013 and was hand-selected by the ARNG chief surgeon's staff to brief senior enlisted medical leadership from all 54 states and territories during the last five ARNG annual medical team conferences.
"Medics throughout the country in all Army components look to Sgt. 1st Class Bushey for guidance as a medical training subject matter expert," said Blackwell. "He is a subject matter expert on establishing American Heart Association, Military Training Network and Army Emergency Medical Services training sites for military locations of all Army components and sister services."
Blackwell explained another contribution of Bushey's happened during COVID-19 when he directly coordinated with the Louisiana State Bureau of Emergency Medical Services to set up training sites, ensuring more than 250 military personnel were trained to support a variety of missions across the state of Louisiana.
"The personnel that were trained formed numerous vaccination and testing teams resulting in more than 277,000 vaccinations provided within the communities," said Blackwell.
Bushey is the first noncommissioned officer in the LAARNG to be inducted into O2M3, and said he is thankful for the support provided by his leadership, his instructor team and his family.
"It is one of the highest professional compliments and honors I have received in my military career," said Bushey. "I am honored and grateful to be recognized for the hard work I put into the 68W training and sustainment, and to be recognized by my peers in the AMEDD is truly a humbling experience."
Blackwell described Lloyd and Bushey as 'go-getters' who set the example and encourage others to do the same.
"They have no problem speaking up to address gaps or rolling up their sleeves to get things done," said Blackwell. "We need knowledgeable leaders like them who are passionate about their work and want to make a difference for the good of the organization."