La. Guard delivers water during winter weather response
By Louisiana National Guard Public Affairs Office
NEW ORLEANS – The Louisiana National Guard (LANG) conducted response operations following the severe winter weather that caused widespread frigid conditions across the state during the holiday weeks.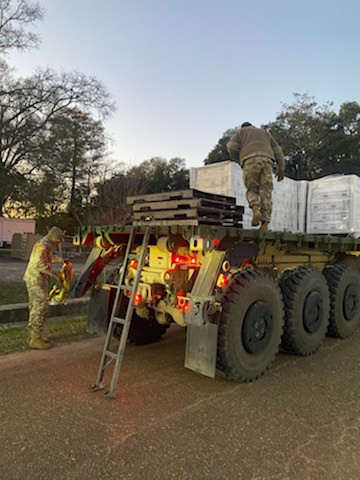 As with any response, the LANG was prepared to provide support to civilian authorities throughout Louisiana to save lives, protect key assets, and ensure the health and public safety of the citizens of Louisiana.
Due to several water stations across the state losing functionality due to broken pipes, which affected nearly 5,000 customers, the LANG supported local officials through 16 commodities distribution missions.
In total, Guardsmen delivered and/or distributed a total of 292 pallets of water bottles to 11 parishes … totaling 262,800 liters of water.
Louisiana's National Guard service members are trained, ready and equipped to stand up at any moment to protect lives and property, maintain communications and ensure the continuity of operations and government.