La. Guard Military Police Battalion headquarters holds deployment ceremony
By Staff Sgt. Noshoba Davis, Louisiana National Guard Public Affairs Office
PINEVILLE, La. – The Louisiana Army National Guard's Headquarters and Headquarters Detachment, 773rd Military Police Battalion, 139th Regional Support Group, held a deployment ceremony in the post theater at Camp Beauregard in Pineville on May 2.
The official party for the ceremony included Maj. Gen. Keith Waddell, the LANG adjutant general, Lt. Col. Doris Reed, commander of the 773rd, Command Sgt. Maj. Clifford Ockman, the LANG command senior enlisted leader, and Command Sgt. Maj. Verdis Walker, senior enlisted advisor of the 773rd.
Waddell told the Soldiers that the key to a successful deployment is teamwork and self-care.
"As the team moves forward, you are all brothers and sisters in arms and must be supportive and respectful of one another. This team is only as strong as its weakest link," said Waddell. "I ask each of you to look out for one another, be safe, be excellent every day and listen and respect your teammates."
Waddell continued, "Taking care of yourself focuses on four aspects: physical, mental, spiritual and financial. I would encourage each of you to develop or sustain a personal plan to address these four areas and remain disciplined to your commitment throughout this deployment."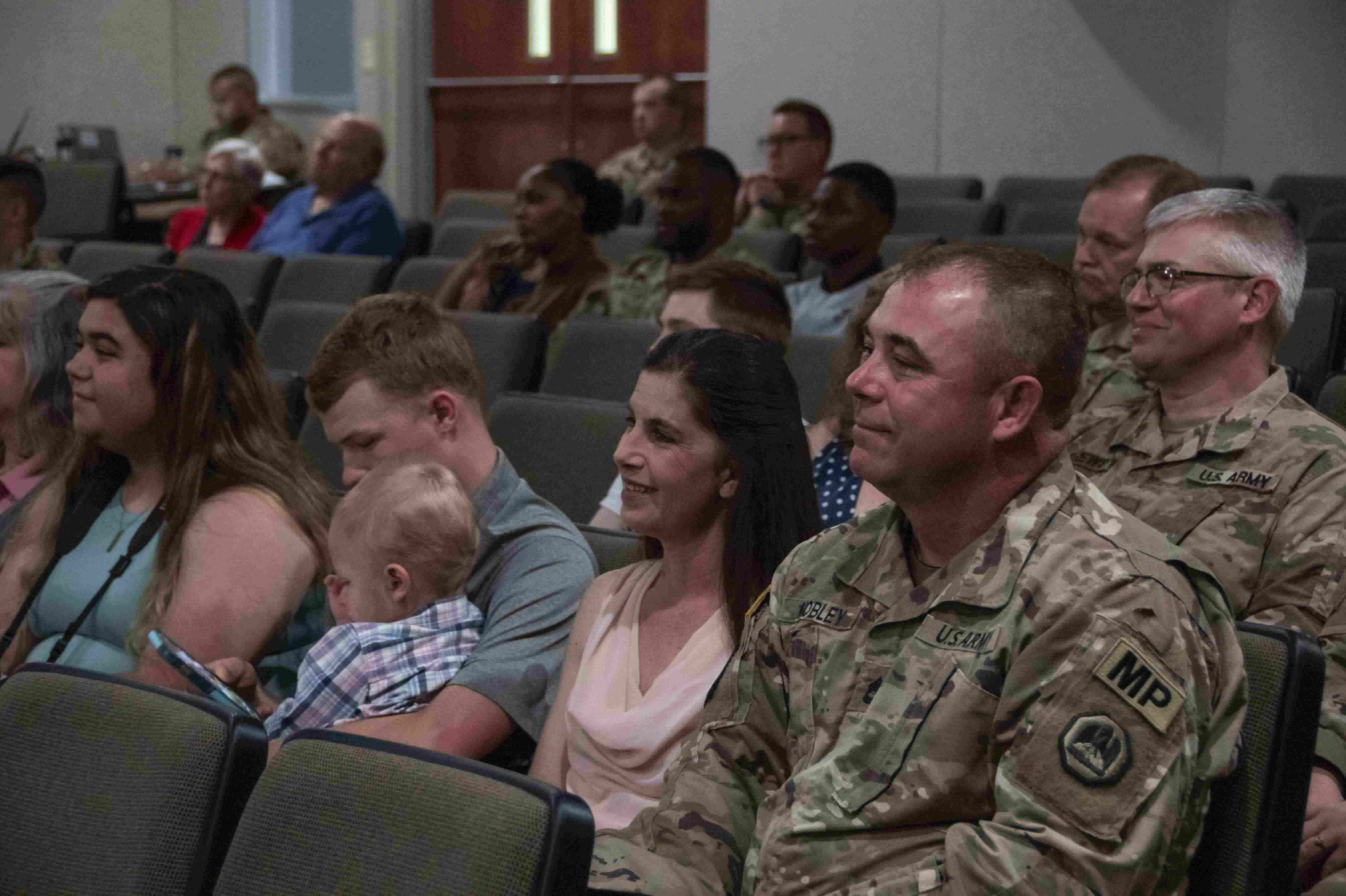 The adjutant general concluded by thanking the Soldiers' families.
"You are the backbone of this unit and the true unsung heroes of our organization. Please know you are always valued and appreciated," said Waddell.
More than 50 Soldiers are scheduled to deploy with the MP battalion in support of Operation European Assure, Deter, Reinforce.
"Five months ago, we were notified of a request to support Operation European Assure, Deter, Reinforce, and since then, the Soldiers in HHD have worked tirelessly to not only get our equipment together but also to make sure we met all requirements for deployment," said Reed. "I'm extremely proud of the work we've accomplished in that short time frame."
Before deploying overseas, the 773rd will conduct mobilization training at Fort Bliss, Texas. This will be the first mobilization for the HHD as an MP battalion headquarters. Before becoming an MP battalion in 2003, the 773rd's lineage can be traced back to the LANG's 773rd Tank Destroyer Battalion in World War II and the 773rd Tank Battalion, which mobilized for the Korean conflict during the Cold War.
While addressing the Soldiers' families and friends, Reed expressed her gratitude to the families and that the unit's readiness depended on the families being ready just as much as the Soldiers and equipment.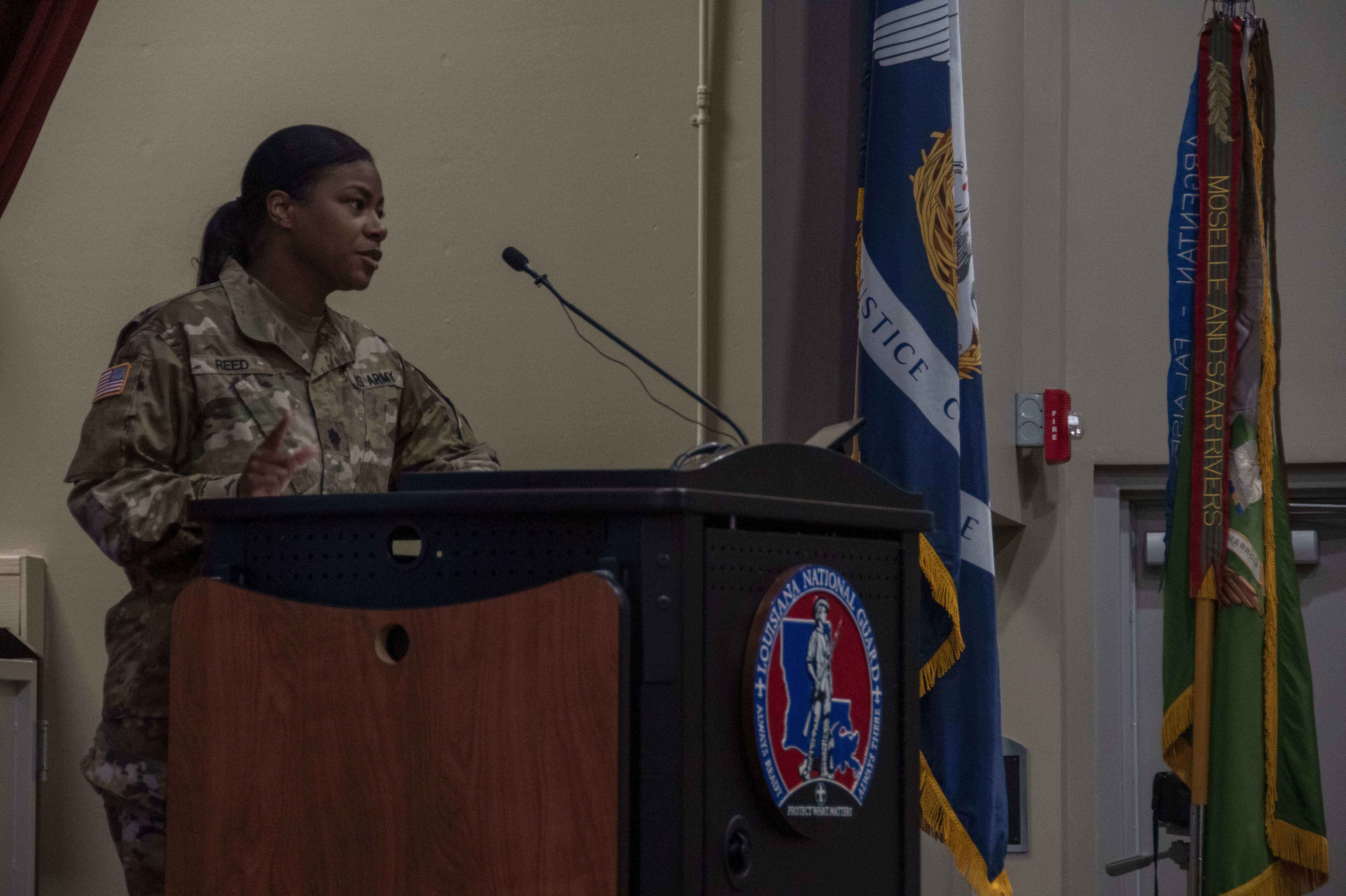 "Readiness certainly goes beyond individual training…your readiness is a part of our readiness," said Reed. "You're the reason we serve. We know that we can't do this alone and every day as we strive to live the Army values, you too also have to demonstrate those same values as you help support us in this organization…I just want to say thank you for your service."
The 773rd MP battalion is headquartered at Camp Beauregard in Pineville, Louisiana, and consists of subordinate units: 2228th Military Police Company in Pineville, 39th Military Police Company in Minden and 239th Military Police Company at Gillis W. Long Center.