La. Guard's Basic Leader Course now multicomponent
By Sgt. Nashoba Davis, Louisiana National Guard Public Affairs Office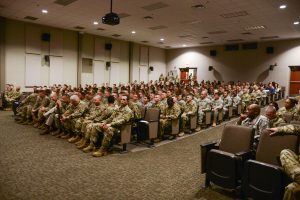 PINEVILLE, La. – The Louisiana Army National Guard's 199th Regiment (Regional Training Institute) Basic Leader Course at Camp Cook in Ball is now known as the One Army School System BLC, making it the first multi-component noncommissioned officer academy in the National Guard.
The school graduated 142 Soldiers from active Army, the Army Reserves and the Army National Guard during an official ceremony at the post theater on Camp Beauregard in Pineville, Nov. 9.
This OASS BLC is the second school to have all three Army components attend; the first being at Ft. Carson in Colorado. The OASS combines Active, Reserve and Guard into one school house where all three train together.
"There is only one Army, and there is only going to be one Army when we mobilize to go anywhere. We're all going to go together," said Maj. Gen. Glenn H. Curtis, the adjutant general of the LANG. "This multicomponent school that we've just embarked on is the standard of how we should be together as one Army as we train our future leaders."
BLC is the first course that Soldiers attend to learn the basic leadership skills they need as junior NCOs. Soldiers learn how to lead small groups, drill and ceremony, land navigation and more during the 23-day course.
The LANG's NCO Academy conducted three test-class cycles over the last nine years before becoming a multi-component school house. The OASS added 15 additional instructors and staff (nine Active Army and six Army Reserve) to the 46 Guard members that are currently assigned to the course.
"When we go forward, we don't have Guard missions, active duty missions and reserve missions, we have an Army mission and being able to meld that at the junior level sets us up for success when we go forward," said Sgt. Maj. Brian Soper, National Guard Bureau's G3 sergeant major who is responsible for operations.
"The biggest benefit for me was learning all three sides. We always think that the National Guard might not be doing anything, but they train just as hard as us," said Spc. Christopher
Fletcher with the 230 Infantry Battalion out of Ft. Polk in Leesville. "They train like they fight. They train hard, and they are very passionate about the uniform."
The instructors are also learning about working together as one Army team.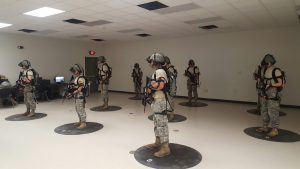 "It's been interesting to learn and know that we have this extension of the Army and getting to see where they come from," said. Staff Sgt. Ana Shuman, an active duty small group leader with the 199th. "It's been challenging, but a good challenging."
"I learn something from everybody every cycle, whether it's from students or other instructors that I work with," said LANG Staff Sgt. Nicole Bourgeois, a small group leader with the 199th. "The active duty Soldiers that we have from Ft. Polk have been able to come in and share their knowledge, share what they do and what missions they run. It's nice to have a little something different thrown in the mix."
The LANG academy was established in 1976, and taught its first course in 1977. The academy received Institute of Excellence in 2006, 2010 and 2013, and was also nominated for the Army Superior Unit Award in 2013.
The academy is set to train 1,584 Soldiers in 2017 with 25 percent of those Soldiers slated to come from Fort Polk and 16 percent are to come from the Reserves. The remaining 59 percent will continue coming from the Guard.