La. Guard's special disaster team ready to respond
By Staff Sgt. David C. Kirtland, Louisiana National Guard Public Affairs Office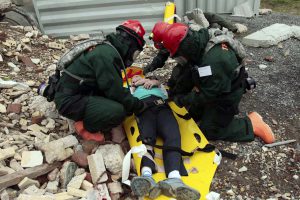 NEW ORLEANS – The Louisiana National Guard's special disaster-response team concluded three days of training with a final evaluation exercise to maintain its Department of Defense certification at the Joint Emergency Services Training Center in Zachary, Jan 4-7.
More than 200 LANG Soldiers and Airmen make up the specialized Chemical, Biological, Radiological/Nuclear and High Yield Explosive (CBRNE) – Enhanced Response Force Package (CERFP) that stands ready to assist local, state and federal agencies if called upon. The unit provides capabilities to perform patient decontamination, emergency medical services and casualty search and extraction.
"This is a special unit specializing in homeland security dealing with hazardous material and weapons of mass destruction," said Lt. Col. Jonathan Ballard, CERFP commander. "They do decontamination, medical triage, search and extraction, and fatality recovery."
The CERFP trains continuously in order to remain proficient and ready to deploy within six hours to any location in FEMA Region 6, which includes Arkansas, Louisiana, New Mexico, Oklahoma and Texas.
"The evaluations are normally held every 24 to 36 months," said Ballard. "But this unit trains together once a quarter every training year to maintain proficiency."
Army and Air Guard assets designated as CERFP include a decontamination unit from 926th Engineer Company, 769th Brigade Engineer Battalion located in Baker; a search and extraction unit from 927th Engineer Company, 769th Brigade Engineer Battalion in Baton Rouge; a fatality recovery unit and Joint Incident Site Communication Capability unit from the 159th Fighter Wing in Belle Chasse and members of the 159th Medical Group, in Baton Rouge.
"These Soldiers and Airmen are especially useful to Louisiana due to its unique location and the amount of gas and chemical plants within the state," said Master Sgt. Carl Griffin, CERFP operations chief. "They bring a larger set of capabilities to the state to assist local emergency operations centers, sheriff's offices and fire departments during major events."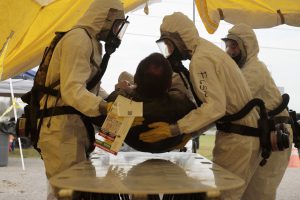 Louisiana's CERFP was stood up in November 2010. Since then, the unit has provided command and control support in response to Hurricane Isaac in August 2012 and assisted the 62nd Civil Support Team in New Orleans during Mardi Gras in 2016. This year, members of the CERFP will again assist the 62nd during the NBA All-Star game and Mardi Gras in New Orleans.
"It's a lot of hard work and interesting training," said Sgt. Matthew Benton, with the 926th Engineer Company. "It's learning a whole new type of skillset."
CERFP is a DoD directive aimed at building up homeland defense with National Guard resources.