La. Guard delivers water to St. Joseph community
By Sgt. Noshoba Davis, Louisiana National Guard Public Affairs Office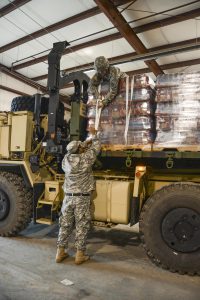 PINEVILLE, La. – At the request of Governor John Bel Edwards, the Louisiana National Guard's 1086th Transportation Company, 165th Combat Sustainment Support Battalion, has delivered 69,000 one-liter bottles of water to the town of St. Joseph.
A public health emergency was declared in St. Joseph, Dec. 16, by Edwards and the Governor's Office of Homeland Security and Emergency Preparedness, when elevated levels of lead and copper were found in the town's water.
Citizens of St. Joseph have been advised not to drink the tap water or bathe with it and to use it only for laundry.
"There's some folks that just can't afford to keep buying water to have it," said St. Joseph Mayor Elvadus Fields. "We couldn't have made it without the Guard coming in, and that's just the way it is. We'd be in worse shape without them."
The town has been distributing water twice a week. On Mondays citizens receive a three-day supply and on Thursdays a four-day supply. Each household receives three liters of water per person for each day.
According to David Greer, the physical administrator for St. Joseph, the town anticipates signing a contract in the next few weeks to start construction on new water lines. The town hopes to have a new distribution system and production system finished and have clean water around July or August of this year.
"We have the water treatment plant in design and have had multiple meetings about it. We hope to have that done and completed in the same time frame as the water lines," said Greer.
"It made me feel good to know that somebody outside of the community cared enough to come in here and serve us during our great time of need," said Wanda Bowman, a resident of St. Joseph. "It warms my heart to see [the Guard] come into my small community; words cannot express to you my gratitude."
For the Soldiers serving on the mission, words Maj. Gen. Glenn Curtis, the adjutant general of the LANG, spoke during the August 2016 flood ring true once again.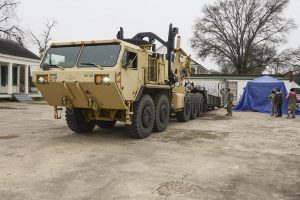 "The Louisiana National Guard has a motto, 'Protect What Matters'," said Sgt. 1st Class Jeremy Ryals, assistant operations sergeant with the 1086th. "This is what we do, we 'Protect What Matters' and what matters is our citizens and Soldiers of Louisiana. If we have to interrupt our lives to ensure that an entire community has water to drink then that is what we do.
"These missions are important to the Guard because we get to help our citizens in Louisiana. It is imperative that we show our full support to our people here." said Ryals.
The town originally tested 13 buildings; two houses showed elevated levels of copper, and other buildings showed signs of lead in the water system.