La. Guard's Washington Artillery welcomes new commander
By Sgt. Garrett Dipuma, Louisiana National Guard Public Affairs Office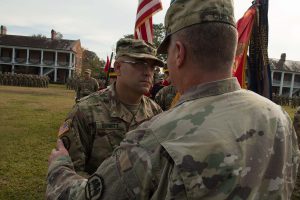 NEW ORLEANS – The Louisiana National Guard's 1st Battalion, 141st Field Artillery Regiment, also known as the Washington Artillery, welcomed Lt. Col. Joseph M. Barnett as their new commander during an official change of command ceremony and pass-in-review at Jackson Barracks in New Orleans, Dec. 3.
The ceremony was held during the Washington Artillery's 177th annual Pass-In-Review which dates from the earliest time in military history and demonstrates the glory and strength of the assembled Troops.
Barnett began his career in 1997 after completing the Reserve Officers' Training Corps program at Northwestern State University in Natchitoches and entered active duty service with the U.S. Army as a second lieutenant. Barnett holds a bachelor's degree in general studies from Northwestern State University and a master's degree in management from Webster University.
"Joe, you earned this right," said Maj. Gen. Glenn H. Curtis, adjutant general of the LANG. "Congratulations to you. You've got all the credentials needed to assume command of such a battalion and I know you and your command sergeant major will do great in the future."
Barnett joined the LANG in 2006 and has deployed twice to Iraq in support of Operation Iraqi Freedom. He currently resides in Gramercy with his wife, Courtney, with their two children Blaine and Chloe.
"The opportunity to command the Washington Artillery truly is the greatest honor I've ever experienced and I will do my best everyday and work hard to be worthy of this honor," said Barnett.
Maj. Jarod W. Martin, who has commanded the 1-141st since June 2016, relinquished command to Barnett during the official ceremony.
Martin began his military career in 1994, when he enlisted with 2nd Battalion, 156th Infantry Regiment, headquartered in Abbeville. He received his commission in 2001 after attending officer candidate school at Camp Beauregard in Pineville. Martin holds a bachelor's degree in social studies and a master's degree in education leadership from Nicholls State University in Thibodaux.
"I was grateful to be afforded the opportunity to command the finest and one of the most historically significant field artillery battalions in the nation," said Martin. "It has been both the most humbling and rewarding experience of my military career."
Martin deployed twice to Iraq in support of Operation Iraqi Freedom as a member of the 256th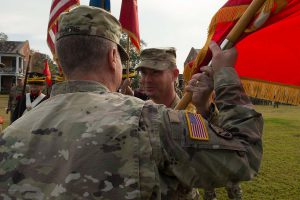 Infantry Brigade Combat Team.
Martin currently resides in Houma with his wife, Denise with their three children, William, Audrey and Ava.
The 1-141st, which falls under the 256th Infantry Brigade Combat Team, is the oldest unit in the LANG and the oldest field artillery battalion outside of the original 13 colonies. It has a storied history in the state from its involvement in emergency operations, such as Hurricanes Katrina and Rita, Gustav, Ike and Harvey, to its deployment to France during World War I and recent deployments to Iraq in support of Operations Iraqi Freedom and New Dawn.