Louisiana Guard unit in Carville welcomes new commander
By Sgt. Garrett Dipuma, Louisiana National Guard Public Affairs Office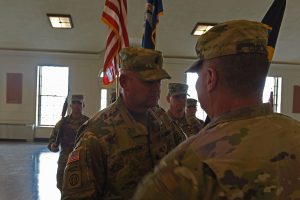 NEW ORLEANS – The Louisiana National Guard's 61st Troop Command welcomed Lt. Col. Dirk Erickson as their new commander during an official change of command ceremony at the Gillis W. Long Center in Carville, Dec 2.
Erickson replaced Col. Johnathon W. Ballard, who has served as the commander since August 2012.
Erickson began his military career in 1985 when he enlisted into active service with the U.S. Army before joining the LANG in 1989. He received a direct commission as a second lieutenant in 1998.
"Every day, I will give my best effort," said Erickson. "To the Soldiers and Airmen of the 61st Troop Command, my promise stands as it does with Maj. Gen. Curtis, you'll get my best effort every day and we will work today for a better and more ready tomorrow."
Erickson currently resides in Alexandria with his wife Beth and has two daughters, Cameron and Avery. He holds a Bachelor's of Science in Biology and Chemistry from Southeastern Louisiana University in Hammond.
Ballard began his military career in 1986 as an enlisted Soldier with the 256th Infantry Brigade. He received his commission after completing the Army Reserve Officers' Training Corps program at Northwestern State University in Natchitoches in 1991.
Maj. Gen. Glenn H. Curtis, adjutant general of the LANG, spoke highly of Ballard's time as commander.
"Ballard, you have been a stalwart for this organization for us, with the many years of flying and I know I asked you to be the 61st troop commander 5 years ago, and what you've done with this organization is just unbelievable," said Curtis. "I can always depend on you to give me very safe advice, whether I liked it or not, you called it like you saw it and that's what I expect."
Under Ballard's tenure, the unit received two outstanding ratings and five consecutive perfect scores on 62nd Civil Support Team external evaluations. They also received the highest ratings in the country in 2014 and 2016 on Standardization, Evaluation and Assistance Team inspections.
Ballard holds a Bachelor's of Arts Degree in General Studies from Northwestern State University and a Masters of Strategic Studies from the U.S. Army War College in Carlisle, Pennsylvania. He currently resides in Geismar with his wife, Patricia, and son Jackson.
Organized in 1994, the 61st has been an integral unit in the LANG's force structure. Early in the Global War on Terror, it maintained command over several support battalions, most of which saw deployments overseas.
"The 61st Troop Command mission, when you serve the people, is one of the most important missions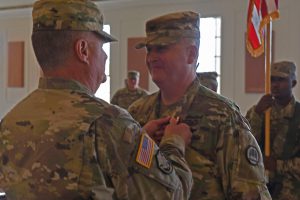 we have," said Curtis. "Your ability to stay ready and move out at a moment's notice to go take care of the people is nothing short of phenomenal."
During the Katrina response in 2005, members of the 61st were airlifted from the flooded Jackson Barracks to oversee security operations at the Superdome.
In 2006, the unit was streamlined, focusing on homeland security and emergency response operations. The 61st played a key command and control role during the responses to Hurricanes Gustav, Ike, Isaac, and Harvey as well as the Deepwater Horizon Oil Spill and the major floods of 2016.