La. Guardsmen assist with overnight search and rescue
By Louisiana National Guard Public Affairs Office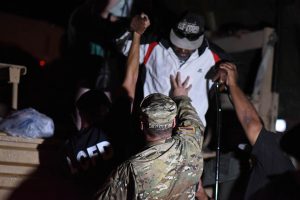 BATON ROUGE, La. – Soldiers with the Louisiana National Guard's 3rd Battalion, 156th Infantry Regiment, 256th Infantry Brigade Combat Team, rescued more than 100 citizens overnight in central Lake Charles, Aug 28.
Altogether, 3-156th assisted the Lake Charles Fire Department, Calcasieu Parish Sherriff's Office and the Department of Wildlife and Fisheries in the rescue of more than 450 citizens and 12 pets throughout the night in response to Hurricane Harvey, which has been downgraded to a tropical storm.
It was a team effort by the local agencies.
"People were calling 911; calls go into the emergency operations center, and then they dispatch them through the fire department. And then the guys with the fire department and wildlife and fisheries would help them direct teams," said Maj. Aaron Duplechin, commander of the 3-156th.
Two LANG boat teams and high-water vehicles were used to assist the parish with evacuations from a neighborhood that flooded and other calls for assistance.
Duplechin, a Lake Charles native, said he has four boat teams in the area and several high-water vehicles ready to respond to calls for assistance as they may come quickly as bands of rain move through the area.
"In the next 24 hours, I think they predicted anywhere from 5-10 inches of rain," said Duplechin.  "So it just kind of depends on when those bands hit and where."
The LANG currently has approximately 375 Guardsmen activated in parishes around the state to respond to the potential flooding associated with Tropical Storm Harvey, to include Guardsmen with high water vehicles and boats prepositioned in Calcasieu, Vermillion, Orleans, Lafayette, Red River, Natchitoches, Caddo, and Rapides parishes.
In addition to vehicles and boats, the LANG has eight helicopters ready to support search and rescue and recon missions as needed.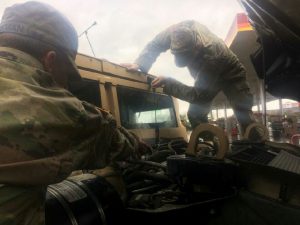 To help better assist coordination efforts at the local level, the LANG has liaison officer teams in Allen, Calcasieu, Cameron and Orleans Parishes.
To date, the LANG has issued more than 1,152 MREs, 750 bottles of water and 247,000 sandbags.
Louisiana's Guardsmen are trained, ready and equipped to stand up at any moment to protect lives and property, maintain communications, and ensure the continuity of operations and government.